The king of assists Kevin De Bruyne is up for the Ballon d'Or 2017.
The Belgium International was the only Man City player  nominated in the 30-player shortlist announced by France Football.
De Bruyne  finally gets some recognition for his recent performances that have taken his club to the top of their standings in the Premier League and Champions League.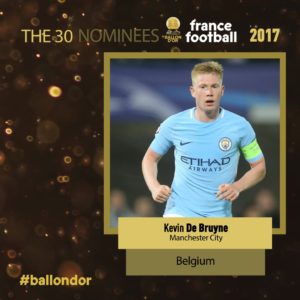 Congratulation De Bruyne, You have our respect!
The 30-man Ballon d'Or shortlist in full:
Neymar (Paris Saint-Germain)
Luka Modric (Real Madrid)
Paulo Dybala (Juventus)
Marcelo (Real Madrid)
N'Golo Kante (Chelsea)
Luis Suarez (Barcelona)
Sergio Ramos (Real Madrid)
Jan Oblak (Atletico Madrid)
Philippe Coutinho (Liverpool)
Dries Mertens (Napoli)
Kevin De Bruyne (Manchester City)
Robert Lewandowski (Bayern Munich)
David de Gea (Manchester United)
Harry Kane (Tottenham)
Edin Dzeko (Roma)
Antoine Griezmann (Atletico Madrid)
Toni Kroos (Real Madrid)
Gianluigi Buffon (Juventus)
Sadio Mane (Liverpool)
Radamel Falcao (Monaco)
Lionel Messi (Barcelona)
Pierre-Emerick Aubameyang (Borussia Dortmund)
Edinson Cavani (Paris Saint-Germain)
Mats Hummels (Bayern Munich)
Karim Benzema (Real Madrid)
Cristiano Ronaldo (Real Madrid)
Eden Hazard (Chelsea)
Leonardo Bonucci (Juventus)
Isco (Real Madrid)
Kylian Mbappe (Paris Saint-Germain)