Analysis
Ederson or Claudio Bravo : Whom would you choose?
We put these two goalkeeper of Manchester City under microscope to help you choose between these shot stoppers according to their potential, responsibility and authority in safeguarding the post.
Ederson Moreas and Claudio Bravo, both South American born stars, are playing in one of the top leagues in Europe, where the beautiful game got its modern look, to relish their best for decisive results of their action.
Though Bravo haven't quite showcased his best at Etihad causing Ederson to leap above him for the number one role, we actually calculate both on overall footballing career to discover the real adorance in them.
The Chilean fort guarder Bravo is one of the names in the list of brilliance of his role. Captaining the national side, Bravo brings a mammoth of experience in him. His star filled caliber was felt in his times at FC Barcelona. The club from Camp Nou was very much influential to drive his career on to the next level. There he won two La Liga titles, two Copa Del Rey and a Champions league before joining the Citizens in 2015.

The Catalan club were struggling to get the instant replacement of the veteran keeper Victor Valdes and in Claudio they find one. Valdes was a hero in red and blue and it was hard fold for his predecessor to gain his leftover love of the fans. And Bravo took it as a challenge to create his dominance between the post. In his first season, he caught the eye of everyone. His excellency in his reflexes to prevent a strike rippling the net was far more than praising. His sincerity in calling out to his defense in times of danger and rushing to claim a destructive ball swung in the box is one of the examples that made up his hats off performances.
Bravo is also brilliant in clawing away goal bounding free kicks and also efficient in one v one situation. The most interesting fact in him is that he actually used to administer the defense and called to his dudes to avoid any threat that can dismantle the compactness and structure of the back line. Plus he is also accurate in delivering passes from the back making a mark of a major sweeper keeper role adjusting the familiar tikitaka style of play.
For the national side, he is the pillar in the last line of defense annoyed to slow down his working rate or look casual for a single minute. He guided Chile to two back to back Copa America titles, country's first in their history and also helped his nation participate gallantly in a FIFA World cup and FIFA Confederation Cup. Saying so, we also figured out another important and positive feature in him. Leadership. Bravo is a true leader with his gloves ready to be tested for the entire ninety minutes. He never looked as a frustrated figure instead gave a pat back to those causing error.
But at the Citizens dressing room, Bravo never took the love and zeal in him much because the way the Catalan club released him in the July transfer window from 2015 coming under the interest of Pep Guardiola. He failed to thrive here and unfortunately fell down from the pecking order.
His place was then taken up by the young kid who drew his attention from the Portuguese club, Benfica. Ederson came into the limelight and people began to signify him to be the next dictator of his duties. The Brazilian international played for Rio Aveiv and Palmeiras and learned his basic knowledge of goalkeeping to keep up his dream to play in Europe someday. From that age, he showed a sumptuous character in curving out the best model to be a shot stopper. There was no turning back when his works on his homeland made Benfica to appoint him in their club. Two season at the B team of the current champions of Portugal, Ederson materialized to be fantastic youth prospect.
Called to serve the first time, Ederson did not made a lapse in his consistency and carried on to fulfill his target to be one of the greatest with gloves. The teenage sensation was soon enjoying glory times as the club won two back to back league titles with him at their disposal. But his mark on a single game opened up a transfer speculation which made him the most lucromotive keeper in the world. Ederson presented a staggering display in the 2015/16 Champions league game against Borussia Dortmund in the first leg of both the games in a tie at Lisbon to certify his brilliance and made his desire to be call up by any major club.
The Citizens grabbed him in this summer with a huge fee from Benfica as one of the signings of the past transfer window for them.
And Ederson relived again in whole new challenge and now his dreams multiply with a club cherishing the top of the premier league chart with 45 points after 16 games. Individually, Ederson is a characterized maturing goalkeeper who knows to rectify fall up quickly and help Guardiola's style of playing out from the back. His instant impact caused Joe Hart stay out from his original no 1 role and also shifting Bravo to step down from the first choice.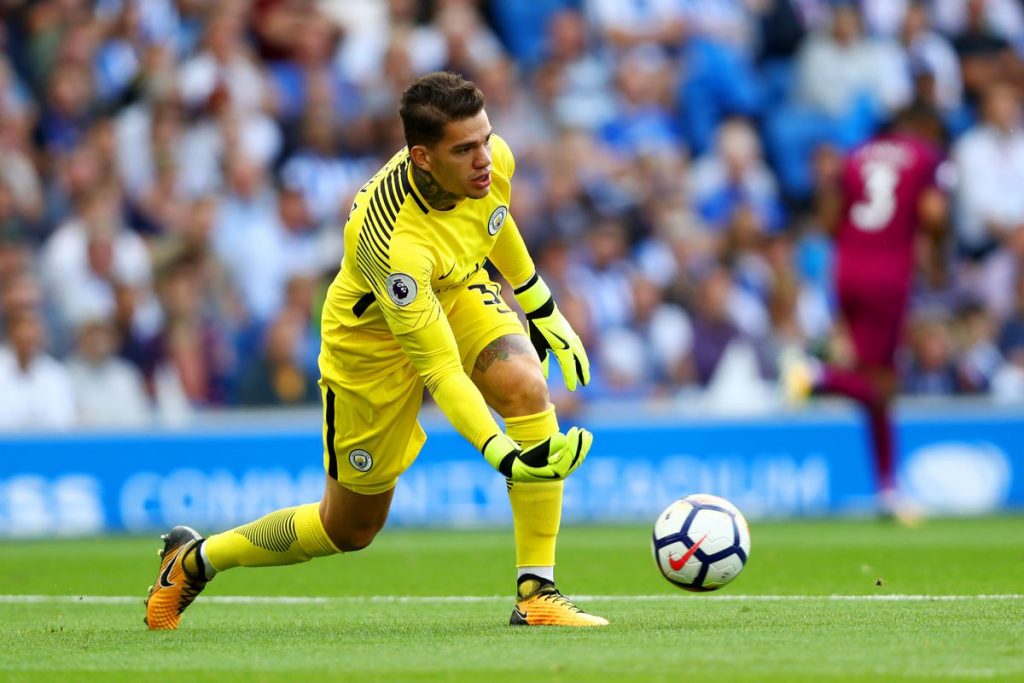 His very presence helps the defense to be confident with their task on the pitch. He needs rectification in some parts but that would surely get on with age when he will start to gain experience. His playing standard in European premier competition is also a extra boost for him. Ederson has a long career to bring out the glamour of his self belonging and also for his teammate.