Seldom do you see a defensive masterclass from a midfielder but when you do, you can't forget. That's how good Fernandinho's performance was in the semi-finals of Carabao cup against Manchester United.
The Brazilian midfielder turned centre-back recently had been finding it tough to acclimatise himself to the new position but a world-class performance yesterday night has certainly shut all the critics who were demeaning Guardiola with the tactic of playing Fernandinho as a midfielder.
Fernandinho was standout in the defence of Manchester City who helped the game end 3-1. With his absence the Red Devils could have easily scored a goal or two more.
The 34-year-old yet young centre-back was omnipresent whenever need be. He was always there in the box, blocking crosses from the wings and even tackling the forward of United while stopping them to pass through.
United were only terrific in the opening 15 minutes of the game and we had Fernandinho donning the game for whole 90 minutes. In those fifteen minutes alone he made 3 interceptions and also headed a clearance that resulted in City's opening goal.
Benjamin Mendy was banal in his performance and has awakened the call for Zinchenko to come back in the first squad. The Frenchman was not upto his best but good for Manchester City that Fernandinho was.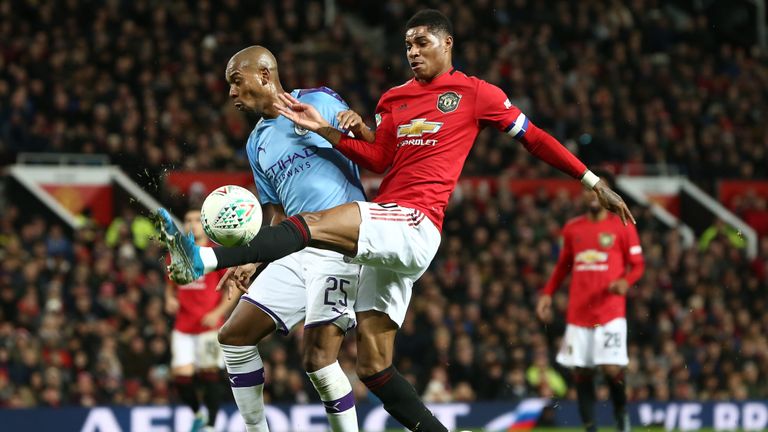 A world-class performance from Fernandinho has surely hailed him to be the best centre-back available to Guardiola at present with the Brazilian transforming himself from a fifth or sixth choice centre-back to the first.
If it was not for Fernandinho, City would have been struggling. Surely an asset that he is, he is beneficial for the Blues in any role that he plays. Now I feel that City surely need him for one more season.