Jason Wilcox has been appointed as our new Academy Director.
Jacon Wilcox a former Premier League winner and England international, joined Man City's academy coaching staff five years ago.
Since this summer he has been executing the role on an interim basis and now Wilcox will perform his role as Club's Academy Director.
During his coaching career at City's academy he was appointed head coach of the U18's squad which led his boys  to a national championship title and two FA Youth Cup finals.
In the summer of 2016, Wilcox was named head of academy coaching.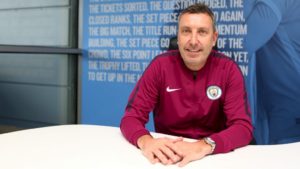 During his time at the Club he has witnessed the development of the youth football strategy.
"I have really enjoyed my time at Manchester City over the last five years and I am excited to take on this new challenge at the Club as Academy Director," Jason Wilcox reflected.
"The City Football Academy is a state of the art youth development facility, but the passion and the commitment of the staff and players will really make a difference to what we can achieve going forward.
"Our goal is to develop well-rounded, talented individuals on and off the pitch and I am relishing the opportunity to help us meet this objective day in and day out."
Director of Football, Txiki Begiristain, added: "Jason has been a highly valued and integral part of our academy structure for many years, and is a natural fit for the position as he shares the Club's vision for developing young football talent.
"I am delighted that Jason has accepted this challenge, and everyone at Manchester City wishes him well as he steers our academy into the next phase of its development."