Sergio Aguero's brace goes in vain as Manchester City draw 2-2 at home to Crystal Palace. After trailing behind until 80 minutes, Aguero squeezed two quick goals to take City 2-1 up, only for Fernandinho to draw the game after giving away an own goal.
City's draw now means that Liverpool can extend their lead to 16 points with a game in hand (if they win against Manchester United on Sunday).
Manchester City were on the verge of losing the game until Aguero got his A game onto the pitch and finished two sensational balls that could not have been in by any other forward. The first goal was a diving volley of a cross from Gabriel Jesus while the second being a bouncy header from Benjamin Mendy's pass.
The two goals against Crystal Palace meant that Aguero has scored 6 goals in his last three games after returning from injury and is on track to win a Golden Boot, yet again.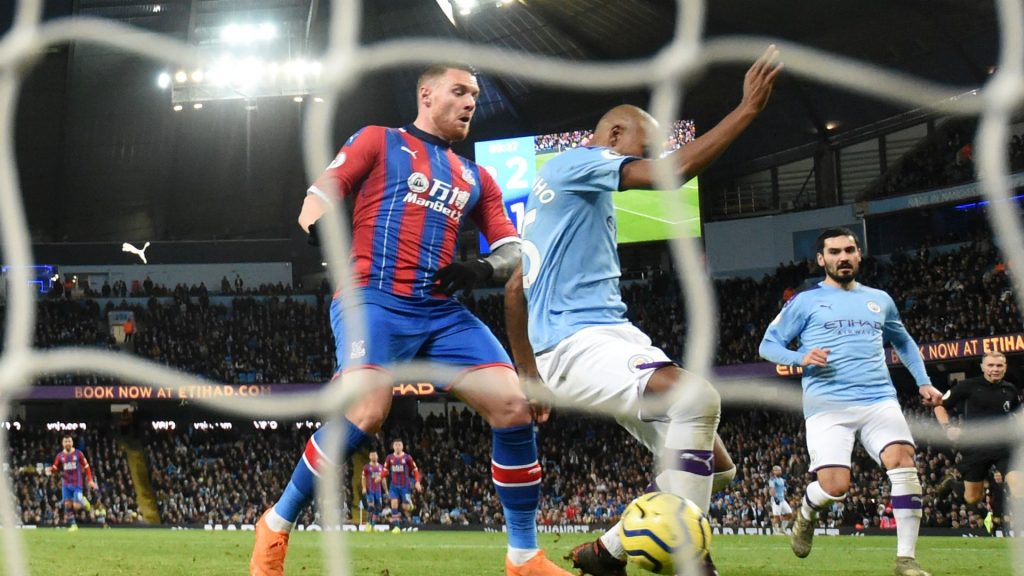 Aguero's brace could have been greeted with a win if City would not have allowed Wilfried Zaha to run. How could you allow a forward to run through the defence when only thing you have to do is defend. City's own mistake cost them 2 valuable points which now gives Leicester to take the second spot.
Even though City were leading the game, they allowed Zaha to make a counter attack and later cause an own goal off Fernandinho's heels. When asked about the mistake, a baffled Guardiola said:
"The second goal is a mistake and we have to avoid it. It is just not possible Zaha can run and we allow it." Asked to elaborate he said: "It was a decision. It was a wrong decision and we are going to solve it and improve it. In this situation we cannot let them run in this counterattack."
"We tried to do everything, how many cross and arrive there. We arrive few. The spirit was there. We tried and we tried. It was a pity at the end to drop two points in this way but that is football and we have to learn from these situations. It was a tight game and unfortunately we could not win it."
The Blues of Manchester have committed a lot of mistakes this season which has cost them a treble of domestic trophies. They will have to correct them if they fancy finishing second in the Premier League.