What A Derby It Turned out to be, the goals were raining at The Old Trafford where Rooney netted in the second minute and Michael Owen netted in the injury time to give Alex Ferguson side the critical three points at the top of the table.
The possession throughout the game was almost with the Alex Ferguson side but the score sheet decides the result.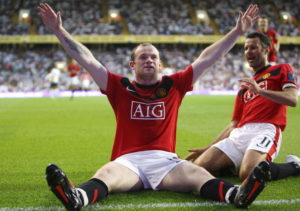 This Match will go in the boos as one of the Best Manchester Derby of all time.
This is how both the teams from Manchester lined-up at the start of the battle :
MANCHESTER UNITED: Ben Foster, John O'Shea, Rio Ferdinand, Nemanja Vidic, Patrice Evra, Park Ji-Sung, Anderson, Darren Fletcher, Ryan Giggs, Wayne Rooney, Dimitar Berbatov
MANAGER: Alex Ferguson
MANCHESTER CITY: Shay Given, Micah Richards, Jolen Lescott, Kolo Toure, Wayne Bridge, Gareth Barry, Nigel De Jong, Shaun Wright-Phillips, Stephen Ireland, Craig Bellamy, Carlos Tevez
MANAGER: Mark Hughes
"Two Minutes into the game,City switched off and let Evra play and Rooney is on the score sheets already"
The Lead for United didn't lasted long as persistence from Former Manchester United striker Carlos Tevez who tool the ball from Ben Foster after his hesitation to clear the ball who provided it to Gareth Barry whose "Perfect" shoot got the goal for Manchester City as we are back to where we started.
Until the Half Time Score remained one all, but just after half time United scored again as Darren Fletcher netted a header from the perfect cross as The home side lead again.
Manchester City were still in the game and all the credit to Shay Given who made some fantastic saves to keep the City in contention. And Just in time a brilliant effort from Craig Bellamy had beaten Foster. And Manchester City were back into some fight.
It looked like United sealed The Three points as Darren Fletcher netted past Given again from a free kick by Ryan Giggs as only ten minutes left on the clock for Ninety. But the story was filled with mystery as the game progressed.
Mark Hughes side were constantly pressing back Manchester United, Richards missed an open goal and it seemed Manchester City will get that goal before time. Soon, Rio Ferdinand cheaply gave away the ball to Petrov near half-line as Bellamy doubled his personal tally for the match and both sides are back on level on Ninety.
Away fans went frenzy as they were back on level and will take atleast one point from Old Trafford but Guys story doesn't end here. Giggs got that brilliant pass into the penalty area to Michael Owen who came on as a substitute replacing Berbatov and he doesn't miss this chance ball is into the net and Manchester United scores in the Ninety-Sixth minute to get that Three Points. Old Trafford has gone crazy right now and Alex Ferguson celebrates the goal with dance in the technical area where Mark Hughes nods his head in grief.
What a Manchester Derby we have had tonight, Manchester City deserved a draw and Referee has come under huge criticism for allowing more than notified extra time but was defended by one of the best ref's of all time Graham Poll as we have had a goal celebration, an injury, a substitution and fan troubles.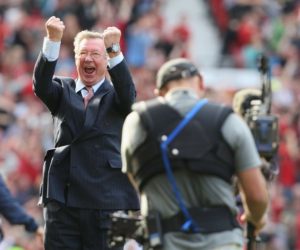 But what a match we have had at Old Trafford and Alex Ferguson described this as "probably […] the best derby of all time".