Patrick Roberts – name Celtic supporters are familiar with, at the same time someone Manchester City fans are soon going to sing about. Patrick Roberts has decorated himself with high praises from around the globe with his 'exceptional' performances performing for Scottish champions. In no time he has turned into fan favorite at Celtic Park.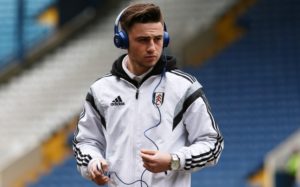 Roberts graduated from Fulham academy, penning his first professional contract at age of seventeen. Though, Manchester City were quick to snap Patrick and initiate his development for bright future. The future looks sunshine for English starlet with what he has showcased so far, with Celtic he became indispensable content of Brendan Rodgers squad who went unbeaten and at the same clock winning treble in Scotland.
Then Fulham gaffer Felix Magath described Patrick Roberts as "an extraordinary talent".
Manchester City signed Patrick John Joseph Roberts for something around £12 million when he was eighteen. Patrick's Man City debut came against Real Madrid in pre-season International Champions Cup 2015, coming on as a substitute for Jesus Navas. His official first team debut came as substitute against Sunderland in the League Cup. Patrick Roberts Premier League debut came in a 4-1 win against Tottenham Hotspur, replacing Sergio Aguero.
In ending days of January 2016, Celtic sealed long term loan deal aging 18 months for Roberts.
With his performance with Celtic on his first loan spell, the club were keen to land the English star on a permanent basis. But only succeeded in landing him for another loan spell which was later described by Manager Brendan Rodgers that Manchester City wouldn't have sold Patrick Roberts even with £30 million on the line. That shows how much Celtic as well as Manchester City believe in Patrick Roberts, because when a club is willing to go beyond their transfer limit to get a player – he would possess something 'exceptional', something 'extraordinary'.
Patrick Roberts possesses mobility around offensive side of the game, he can feature on either wings as well as attacking midfielder. Patrick also served as centre forward at some moments with Celtic. On the majority, he featured on right wing and midfield. He is someone who can drift inside opponent defence with ease.
When a twenty-year-old is given historic 'seven' number with the most successful Scottish club, that is something that proves his core to the squad. At the same time, it even replicates what he has done in his time with Celtic park.
At the moment:
James Forrest has outshone Patrick Roberts this season, with many questioning laters ability. Roberts even suffered major injury setback when he had to travel back to Manchester for healing process and was declared out for three months with recurrence of hamstring injury after he was withdrawn after 11 minutes in Scottish premiership fixture against Motherwell at the dusk of November.
Injuries are part and parcel of a professional footballer, but they come back again fitter and hungrier. Patrick Roberts may be on his house bed at this moment but it's sure he will get back and show the world 'Who he is'.
Manchester City have a 'superstar' in Patrick Roberts, it's just a matter of time.