In many ways City's season has been by and large; better than last year, in a few they have not been successful enough, conventionally in terms of stats. The Premier League Champions have proved why they are the present day colossus having overcome all trajectories and juvenile condition with considerable ease.
There is little doubt that Pep Guardiola has changed the ambiance of Etihad and everyone connected to Manchester City in his formative and active years, to a greater or lesser degree because of his tactics and style of football.
In his first season at the helm, Guardiola's ideologies were doubted but it was his past sabbatical period that engulfed and forced the City owners to continue his tenure. Pep Guardiola did not dissatisfy the expectations that were put in by the fans and team management, and came back stronger, winning the title for City with record-breaking 100 points.
Already a hero; Pep still had a lot to prove
After Manuel Pellegrini had completed his 3-year contract with City, the Abu Dhabi United Group signed someone they didn't know was going out to script history in not as early as his first season on the helm but pounced back stronger in the second.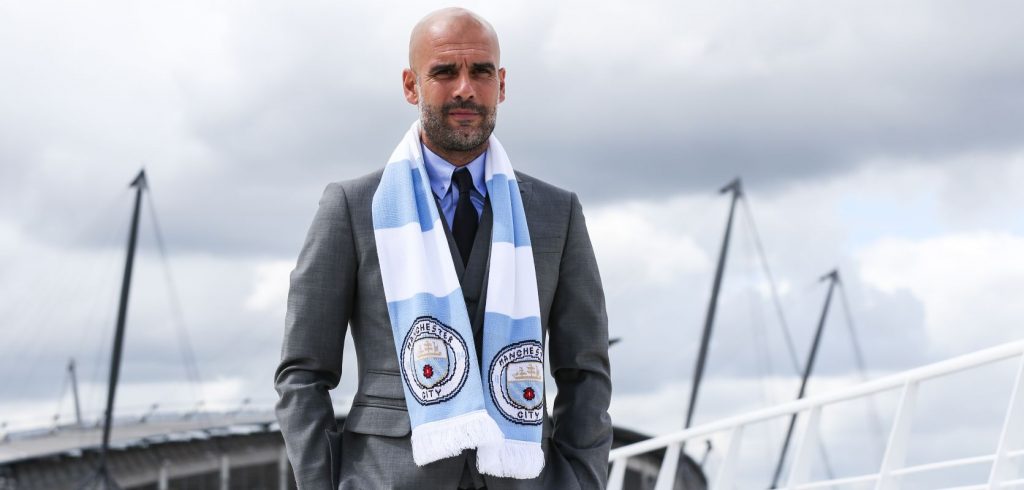 City knew that they were signing a CHAMPION in Pep Guardiola, one who had large chunk of titles under his belt alongside attaching the name of a dominating manager who loves to have possession; possession of balls in the pitch and that of trophies after the competitions. In his days at Barcelona, he had already scripted history by being the first manager in charge to win a six treble with the Blaugrana's in 2009-10. The Spaniard went down with 14 honours attached to his name in only 4 years of his service.
Later with Bayern Munich where he was there for 3 years, he won the Bundesliga for all of the seasons along with 4 more titles. It was then, that City assigned the manager owing to his sabbatical period with two deadly clubs. But his days in City are far more glorious than the previous two clubs he handled, who already had a history of winning in a lesser competitive league, but with City, Pep was onto a uphill task of becoming a great in toughest competition of all time.
His contribution to City!
Do we really have to talk about the wonders he has done for our club?
With Spaniard holding the realm, it feels like the days of City have become easier, brighter and much more positive. The goals come like a blitz from the skies; a carpet-bombing what we may call for the opponents by our Sky Blues.
Although City did have Aguero but with a City side Guardiola had in his record-breaking season, no one would have thought that this part of Manchester would do wonders when they already had a star-studded rival in Manchester United who had spent heavily on their summer signing.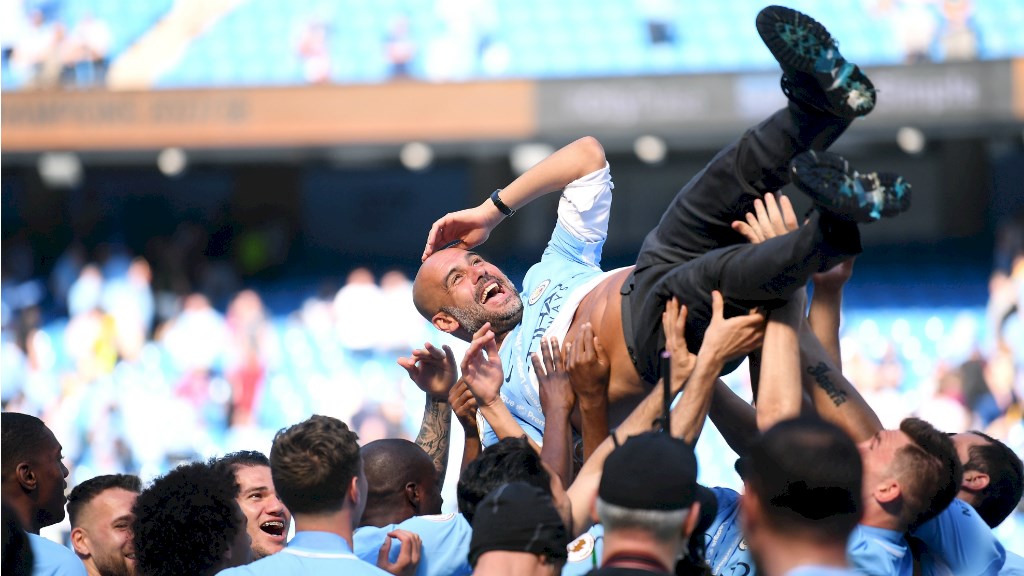 The way he has fabricated and glued his players and woven them altogether is a sublime task in itself requiring nothing but his presence. Look at the names, Leroy Sane and Bernardo Silva, who would have thought that this two will turn out to be Europe's next sensation; such has been Guardiola's role in their uprising.
In his third season for the club, Guardiola is on the verge of achieving and engraving his name in the history books of the Premier League by becoming the first manager to win a Quadruple, if he successfully does it so. City's performance in Champions League have made every big name fear of facing this English club in Quarter-finals, even the big name of Juventus and Barcelona know what City can turn into.
A lot of prodigious minds have handled the clubs and a few have been praised for. Let's consider Jose Mourinho for time being. We all have found some glitch in their tactics, be it Mourinho's excessively defensive attitude, but Guardiola has never given a chance to complain, what will you blame him for? Winning matches and achieving Glory? Nah, you can't disgrace this legend.