Manchester City announced Riyad Mahrez on a club-record deal last week, and Fantasy Premier League(FPL) managers are buzzing over another superstar added to City's ranks.
Yeah, the dilemma just becomes worse when the FPL managers have to choose between the likes of David Silva, Kevin De Bruyne, Leroy Sane, Raheem Sterling and now Riyad Mahrez.
Mahrez comes in with a reputation, reputation of being, if not best, one of the best winger in England. Everybody exactly knows 'What he is capable of' and 'What he has done at Leicester City'. It just explains the hefty price tag Mahrez comes in with.
Considering £60million paid by the Blue side of Manchester, you would expect Mahrez to be an integral part of Pep Guardiola's squad. Yet having any Manchester City's wingers in your team comes with a risk – 'The Risk of Rotation'. You would expect Pep Guardiola to play the same game as he had done with Sergio Aguero and Gabriel Jesus last season. Leroy Sane, Raheem Sterling, Bernardo Silva and Riyad Mahrez – Four sky high personalities and only two void places.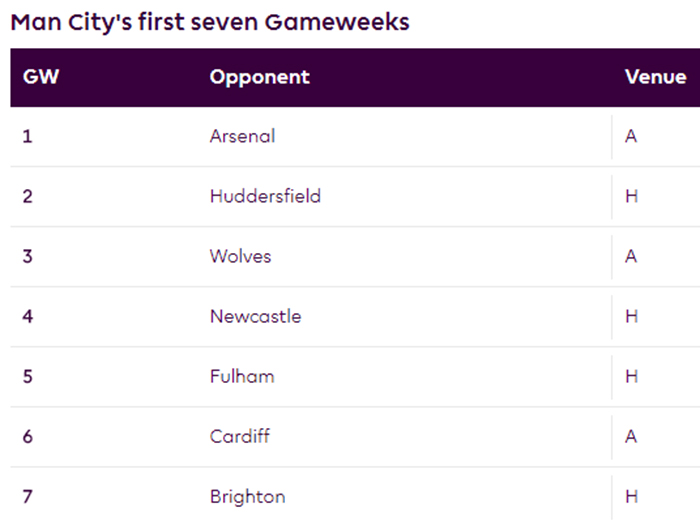 Manchester City have only one tough fixture in Arsenal on opening gameweek, followed by quite a smooth run of games, so its essential to keep three of City's beasts in your squad. You could expect loads of goals and clean sheets after their visit to Emirates Stadium on 12 August, 2018.
Raheem Sterling and Kevin De Bruyne are expected to return back to Manchester in the first week of August, after having an extended break due to late participation in the World Cup. So, Mahrez fits right into Sterling's spot going into the season.
Mahrez recorded 195 FPL points last season with 12 goals and 13 assists for Leicester City last season, which is more than Leroy Sane (179), David Silva (169) and Bernardo Silva (112) but inferior to De Bruyne's 209 as well as Sterling's 229. Though he was playing for a team which finished seven position behind the Champions and his performances defy his team's performance.
Coming into a top club with class players, with each having the capability to drift the game away on their own – Mahrez would play with more freely with less pressure. Though, he has to adapt to City's style of playing and accepting the fact that ball with stay more on his legs.
Riyad is priced at £9.0m in Fantasy Premier League this season, £2.0m cheaper than Sterling. It is something which will tempt many Fantasy managers to have Mahrez in their squad. The Algerian could become City's go-to attacker for the season's opening encounters.