Raheem Sterling have saved Manchester City's day many a times this Premier League season. When The Blues are in cry of a goal and the team is having a bad day, call Sterling maybe…!
Raheem Sterling is enjoying the 'unique honour' of being the only player scoring the earliest and latest goal of Premier League campaign since 2006/07, when Opta started recording such data.
Raheem Sterling has been one of the outstanding performer for Manchester City. He has shown why he is regarded as one of the best wingers as of now.
The England international have made an habit of scoring in dying moments. Seven of Sterling Premier League 2017/18 goals this season have arrived in the 80th minute or later.
Today Man City Core will walk through some instances when Raheem Sterling have saved Manchester City's day.
Premier League: Manchester City vs Everton – 22/8/17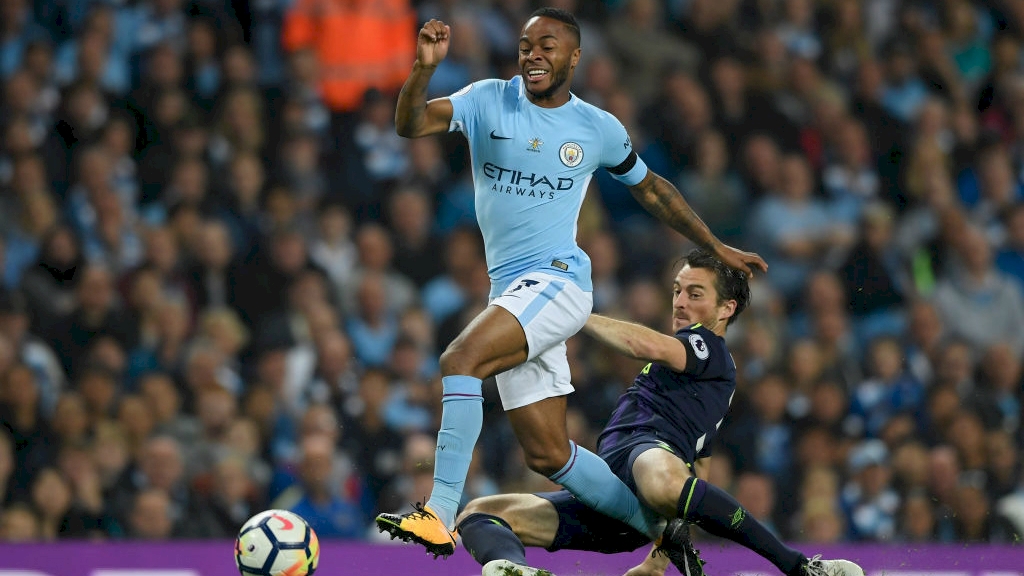 When Everton visited Etihad stadium, Ronald Koeman's men were enjoying the Manchester's climate all throughout the first half as Wayne Rooney claimed his 200th Premier League goal of his career. Kyle Walker was shown red carpet in his debut home match. Despite reduced to ten men, Manchester City fought back and Raheem Sterling's equaliser in the dying moments helped Manchester City to avoid a loss and drag out with a point.
Premier League: AFC Bournemouth vs Manchester City – 26/8/17
At Vitality stadium, Manchester City faced a spirited Bournemouth and were trailing again in the early moments of the game through Charlie Daniel's missile. Manchester City Boy Gabriel Jesus equalise the score. Though the key moment of the match came when Raheem Sterling scored in the seventh minute of added time to give his side a 2-1 win at Bournemouth. Sterling was then sent off for second yellow card after celebrating with the crowd.
Premier League: Manchester City vs Southampton – 30/11/17
The game looked as City were going to drag out with a point in the Premier League for the first time in over three months, but the Blues refused to give up.
City took a lead through Kevin De Bruyne's free-kick just after the half-time. However, Southampton midfielder Oriol Romeu's equalised with 15 minutes left.
Then came the English Golden boy to seal the victory late in the fixture.