Manchester City's most trusted centre-back Aymeric Laporte is expected to miss a few games for his club due to injury. The Frenchman is out due to knee injury which thus leaves Pep Guardiola with a selection head ache.
The centre-back took a blow against Brighton wherein he injured his cartilage and lateral meniscus further joining John Stones in the injury bed. Guardiola have two of his top defenders missing from playing XI.
Manchester City will miss Vincent Kompany for sure. The experienced candidate is no more in service for City and therefore leaves only on option for Guardiola, Nicolas Otamendi. The experienced candidate is the only fit for a central-defender.
City cannot find a new centre-back until new transfer window of January which gives 17 more games for Guardiola to ponder upon. So, what are the viable options for Guardiola and how much will he miss the,"the best left-sided central defender in Europe".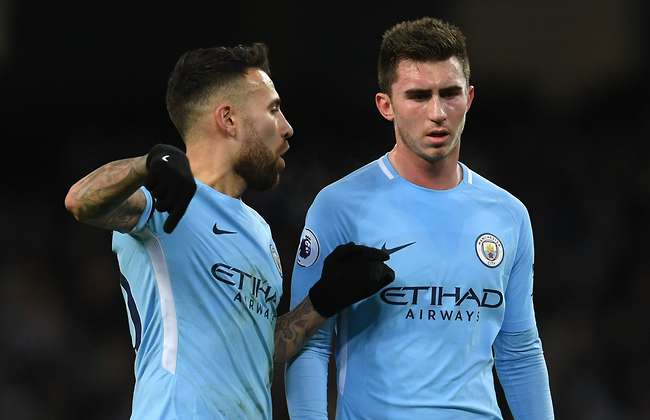 Laporte is the A-member of Guardiola's team since the last season where he amassed a total of 49 games, more than any other outfield player of City. The Frenchman is surely a huge miss and a tough nut to replace.
His absence is a big loss considering the amount of clean-sheets City were able to have in the last-term with his presence in the central-defence. The Blues of Manchester only conceded 23 goals over the season, probably the least by any club.
What are City's options to replace him?
The most viable option for City is Otamendi who is the only fully-fit central defender. John Stones is back in training and the Boss confirmed last week, that barring any set-backs, he will be fit for the trip to Carrow Road.
But if need persists, Guardiola will have to deploy Fernandinho in the position just like he did in the game against Brighton. But Fernandinho is not that good in the position as his usual. The defensive midfielder has panicked in the box and can do so in future.
Guardiola was also impressed by young Spaniard Eric Gracia in the pre-season but considering his experience, he may not be given the responsibility and weight on his inexperienced shoulder. Thus, the only option left and most feasible with Guardiola is to deploy Otamendi with Kyle Walker.