The England International, Kyle Walker believes the move to the Etihad stadium is "the right step" for him. The 27-year-old accepts now in the best place and working under the perfect manager for his future development.
During the summer window, City's Boss Pep signed and sealed Kyle Walker for £50 million from Tottenham. At the time he became the world most expensive defenders but arrival of new team mate Benjamin Mendy claimed that title. He believes his move to Manchester City side will benefit both his career and England's chances of success.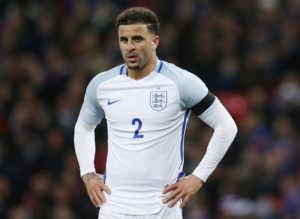 He told reporters: "I thought about what I was wanting to do with my career. Tripps [Kieran Trippier] was a great competitor at Spurs for me, but I wanted to give myself something new.
"Going to City was the right step, working with the manager, him passing on some of the experience he's gained from working with players.
"It's good for Tripps to get regular football, and it's good for me and, hopefully, England too.
"The main objective is – at the end of the season – to be on the plane to Russia and represent my country at a World Cup.
ALSO READ: Alexis Sanchez felt the deal with Manchester City was done''
"I've missed out once before. It's important to be on the plane, wearing the badge and playing games. England is as important as ever.
"You go to your Club every day but when you come to England, you have to be professional and put your England cap on.
"You're playing for your country. I don't know anyone growing up, who doesn't want to represent their country."