Hopefully Manchester City's shock defeat against Newcastle United hasn't dampened your spirits too much as Week 25 is Double Game Week for Fantasy Premier League meaning there's still plenty of time to fine tune your Fantasy League team this season. It's hard to know exactly which players will offer you the most bang for your buck so hopefully we can give you some guidance on which Man City players to add to you Fantasy Premier League ranks.
If you don't already know the score, here's a reminder of the rules. Users are given a budget of £100 million and must select a squad of 15 players. Your team will consist of five defenders, five midfielders, three forwards and two goalkeepers. Remember that you can only select up to three players from each premier league team.
What kind of things should a manager consider when choosing their squad? If you play any kind of strategy game the you'll know the excitement that the competition and unpredictability can bring. For some Fantasy Football players the most fun comes from strategically arranging their line-up the night before a match. But like any strategy game, be it Fantasy League or Poker, the line between the best decision to make and the worst decision can easily become blurred. Sometimes it's good to apply more than just football strategy.
First of all you need to know how to manage your budget correctly. It can be a long grind, with many ups and downs, so knowing how to manage your bankroll effectively is crucial. You want to choose the right players for your team that are reliable as well as cost effective because this will free up some of your funds to use elsewhere and ensure your team is successful long term. So without further ado, here's our top picks of the Man City players you should consider recruiting to your fantasy league team.
Ederson Moraes
Anyone managing a fantasy team should know that having a reliable goalkeeper is a must. It's a position that is often overlooked in fantasy premier league as most people tend to go with the first decent goalkeeper they come across, not putting much more thought into it. But how cost effective is this strategy in the long run?
The main thing you need to look out for are clean sheets. It's important to have a goalkeeper who can guarantee clean sheets. Other than points you get from starting, getting clean sheets is the main way to get points from goalkeepers. Edison has already picked up 10 clean sheets this season and as Man City's No. 1 he's definitely a solid choice.
David De Gea was the only keeper last season to have scored more points and record more clean sheets than Ederson, but at £5.6m the City player is a better investment. Overall there's not much separating these two players and saving £0.4m on the City man will make Ederson a worthwhile addition to you team.
Raheem Sterling
The midfielder has already managed to hit the back of the net 10 times in 21 appearances this season. He's a player that is often overlooked in many people's fantasy league teams. Last season no player could touch Mo Salah's 303 points in Fantasy Premier League. But Raheem Sterling was the second highest scorer last season with a total of 229 points. The midfielder is one of Man City's most expensive options at £11.0m but there's a good reason for it, he's a phenomenal player and would be valuable addition to any prospective fantasy manger's team.
Sergio Aguero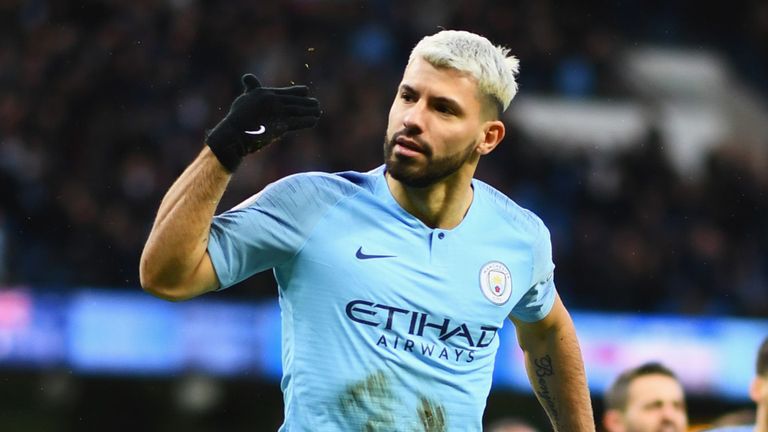 It goes without saying that Manchester City's Sergio Aguero should be the top pick for any fantasy league manager. One of the best strikers in the Premier League, the £11.3m forward is Man City's record goal-scorer and has already managed to score 11 goals in 20 appearances this season. A fantastic player with a great track record, Sergio Aguero is a fine addition to any fantasy league team and a surefire way to quickly rack up points when he plays.
Conclusion
Man City still look good going forward and have stuck to an excellent game plan this season. Purchasing one of these players for your team is a great idea if you're looking for a boost this Fantasy Premier League season.