Sergio Aguero – one of the most lethal striker in the Premier League, someone you can bag on, someone who always deliver you goals.
Aguero has been City's record goal-scorer with 199 goals to his name with only one shy to his double century.
Many Fantasy Premier League managers would have a hawk eye on Sergio Aguero and most of them would have him in their squad but the dividend on Sergio Aguero would not be always high. Gabriel Jesus is being doing very well and may replace Aguero into the starting XI if the veteran fails to deliver on a consistent basis.
Jesus made an immediate impact donning Man City's colors in England after netting three in his first couple of Premier League games, and pushing Aguero on the bench. Gabriel scoring ability soon found Aguero biting for his position until the latter got his chance due to injury suffered by Brazil international.
Both of them are top quality strikers, but who would come out on top is creating doubt in people's mind. At some moments it seems combination of Aguero and Gabriel is the 'golden sight' of this Manchester City squad but the inconsistency with Pep Guardiola's selection have played an imminent role for the manager to not consider either of Aguero or Jesus.
As compare to Sergio Aguero, Gabriel Jesus will be a cheaper option. But you cannot rule Sergio Aguero out, he is a top performer in front of goal and you just don't know when he delivers. At £11million he becomes one the most expensive player in FPL but he is always an assets to have.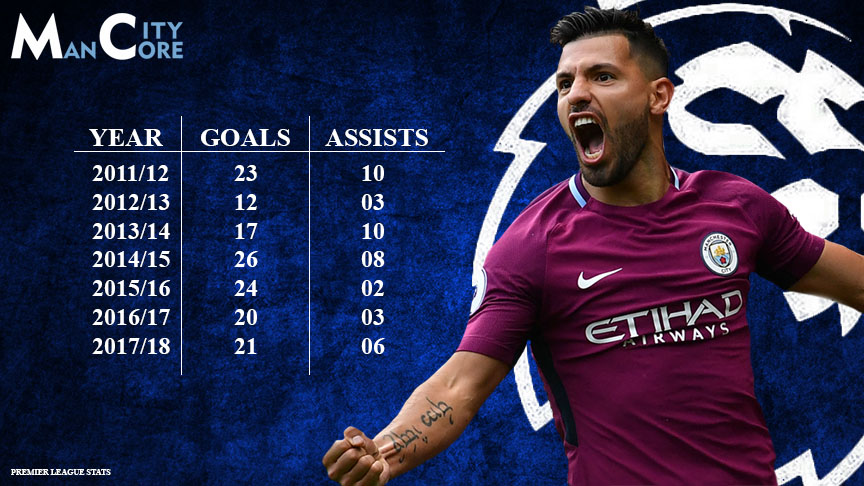 Despite getting down with injury couple of times Sergio Aguero managed to score 21 goals in 25 league appearances, also assisting 6 in the process to tally 169 FPL points last season. His average of 6.8 points per match was more than any FPL forward.
Manchester City open their Premier League campaign with fixtures against Arsenal. Following the Arsenal game, their next six fixtures are against Huddersfield, Wolves, Newcastle, Fulham, Cardiff City and Brighton. Man City do not face top-six team until they are away to Liverpool in gameweek 8.
Sergio Aguero will be an investment with high expected returns. And something that everybody knows, the Argentine carries a big goal threat.
A striker gets 4 points for every goal and 3 points for every assist. But you know the goals are coming. :p