Manchester City are just one point adrift the table toppers Liverpool who have seen a dip in their form since their 2-1 loss to Manchester City in January. The Reds have then won only 3 games out of 9 played in all competitions , making the Premier League title race tougher for themselves. While Manchester City are on a high since the start of new year.
The title race has become more competitive, interesting and intriguing for the fans to watch, with the result expected to be declared on the last game in a similar fashion to that of 2011 title race which Manchester City won in the dying minutes scoring 2 goals against QPR.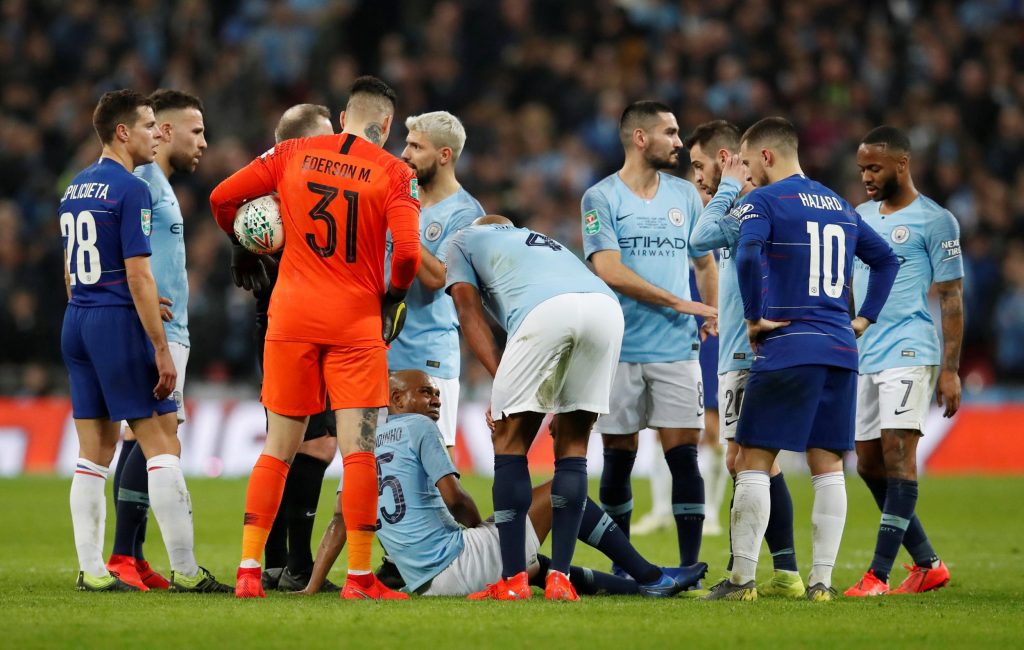 Liverpool and Manchester City are the potential customers of buying title and their consistent fight for the top spot is an assurance of a nail-biting end to the season of 2018-19. The stakes are high and the odds equally favoured. However, Liverpool have a reason to laugh and a golden opportunity to take away the title far from City's reach.
Manchester City in today's training were seen without a number of Senior team players. According to Ian Irving, "City trained this morning, with their heart of midfield Fernandinho, key centre-backs Laporte and Stones, and Brazilian striker Jesus, all notable absentees."
Manchester City are training this morning with Fernandinho, Aymeric Laporte, John Stones and Gabriel Jesus all missing from the session in front of the cameras. Fabian Delph, Ilkay Gundogan and Benjamin Mendy trained as normal #MCFC

— Ian Irving (@ianirvingtv) February 26, 2019
Even Pep Guardiola has confirmed the injury of John Stones, Gabriel Jesus, Fernandinho, and Laporte in recent interview.
He said,"I don't know how long they Fernandinho and Laporte will be out, for a game or two, maybe in the Swansea game or after the international break. In the next weeks, they will be out but I think John and Gabriel will be back soon,"
City, however, are back with Benjamin Mendy on the field playing alongside Gundogan and Delph. The biggest scar for City will be their midfield anchor and defensive midfielder, Fernandinho missing sustaining a groin injury which could last for more than a week. The Brazilian absence will not only demoralise City spirit and shrink their momentum but will also increase the level of confidence in other teams, especially Liverpool who are vying City's defeat.
Let's hope City does not perform the same way they did in the first-half of the season in Fernandinho's absence because if that happens, Liverpool will be crowned favourites. On the contrary, Liverpool will be hoping of City's dismal performances without their core.