The Catalan sergeant is gathering all the requirements in bringing his Barcelona legacy at Etihad to make Citizens the next superpower in club football.
Pep Guardiola, a name that rocks the technical area, is putting forward his unsung managerial brilliance once again to lift off Manchester City in champions dimension. The head coach who led down his philosophy in most of the big clubs in Europe is ready to perch on branch of reputation.
The bald head tactician masterclass is counted one of the geniuses to manage a team. Since he start his real managerial career from Barcelona it triggered the Pundits to say that he will be the next phenomenal at his role. Realistically, it happened at Camp Nou where he unleashed a tip top plan to carry on the philosophy of the club. He did his level best to make the club one of the grandest in Europe. Barcelona grabbed two league titles, three Copa Del Rey and one Champions league in his four year tenure with a monstrous influence on tikitaka style of playing system. Those admirable days continued when he stepped in Germany to handle issues at Bayern. Nothing less than Barcelona, he gifted the Bavarian's three consecutive league and cup titles and send the clubs to the semifinals of the Champions league, each time he sat on the hot seat.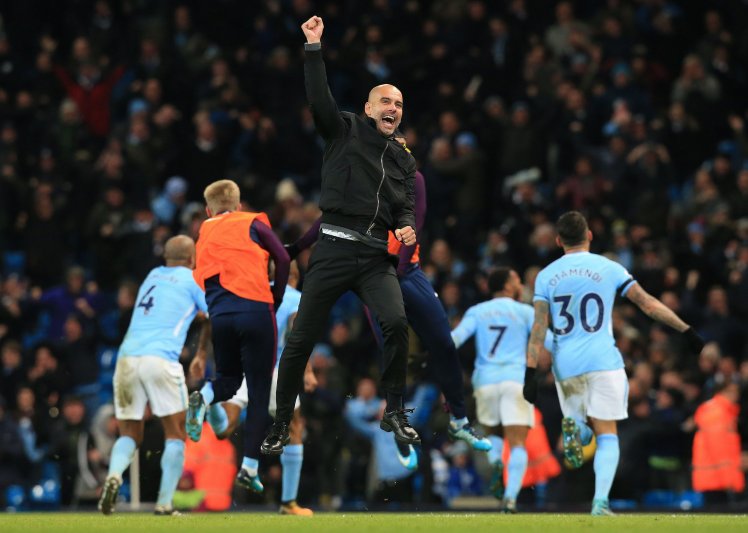 This caused the board of Manchester City a way to get him at any possible way so that his glorious footprint bring positivity to the club, destined to be the next big thing in the United Kingdom. However, the inaugural season was to forget about for Pep who first time failed to clinch any silverware in whole of a season but there was much to say about it in the second one.
Manchester City are currently roaring at the top of the premier league chart gaining unbelievable 43 points from 13 games scoring above 25 and holding an eight points lead of closest placed Manchester United. This is really amazing that such a turnover is possible with true dedication of his job. Also, members doing so in the likes of Kevin De Bruyne, David Silva, Sterling, Sane, Stones and the rest of the eleven are loving their time and contributing more and more to achieve reputation and the respect from fans. This is an wonderful statement by Guardiola which he creates the most.
The story goes like this that the Catalan stepped up to do a revolution after such a downward season. Finishing third was not in the history book for Pep. He is in affection to be a champion at every stage he gets the call to guide a club. So, he planned to bring players ,constantly performing with utmost brilliance in Europe and beyond, telling the board to be active in tracking those players and lunge an effective deal. Fruitfully, he gained so called aristocratic players and went for dressing room clearances ticked off from suiting his playing system. It was little harsh on those players who were so committed to the club but all he did was for betterment. He almost did the same at the segment of the Spanish giants where glimpses of his swapping the starting eleven and leaving out players became common. But it won't worked out hugely because he already had a star studded squad at every position of the pitch. Pep planned that to be installed in City device in order to prepare a full settled team.
Players began to arrive as one by one all wanted targets came into the contentment of Pep. The first to arrive this summer was Bernardo Silva, still waiting for his major chance to play a significant role, who was brought Ligue 1 champions Monaco to approve midfield Solidarity. Then came Kyle Walker, an experienced and effective right back from rivals Tottenham, to be a perfectionist in his role. On came Danilo and Benjamin Mendy. But he also grew a combination of old and new faces to make a ferocious pack ready to damage hopes of the opposition.
He also brought out the best of certain individual who turned out be the generators of success. One huge name in that dictionary is Kevin De Bruyne. The Belgian took on a glorious turn under Pep and revitalised his talent and speed deriving rightful conclusion. He is involved in almost 70% of the goal scoring chances City makes to destabilise the strength of the barriers in the path.
Seems familiar right? Yes! The likes of which the Argentine magician Lionel Messi obtained during Guardiola's reign. Messi already showed his legendary caliber from teenage but it made it at a more mightiest level to thrive under his guidance. The Barcelona hero thereby became the main line in helping the club to move forward. Not to tell anything much about just how fantastic he is. Though Kevin not entirely a No 10, but he is more versatile in creating something beyond of attacking limit. His display of passing and accuracy in linking up with players remind us of the La Masia graduate at Camp Nou. Also the looping crosses he makes to cut apart defensive line is enough to be phrased as 'outstanding'.
Another forecaster in this scenario is Raheem Sterling, the savior at the disposal. Sterling was sort of a fed up creature with his off form that is jeered upon in the first season of Pep and which ultimately turned into an motivation in the second season. Turned out to be a Pedro Rodriguez from Barcelona ,currently playing for Chelsea, who likes to create attacks when its striking to create. Pedro was an extra boost to David Villa as he liked to feed him with his pinpoint assists and here Sterling has been like him and crossed him well over by scoring late winners which has turned into a trend now.
That is surely not all because Guardiola don't look only to individual brilliance but checks on how the team works with the rhythm of his planned play. In his first days at Manchester, Guardiola failed to understand the true nature of Premier league. That he is brought over here to adjust the inside the most magnificent league in the globe. The league where underdogs can make surprising commitments and disrupt winning mentality of the bigger ones. But Pep was smart. He changed his old system with a new format. Briefly speaking, a combination of Spanish style and English style resulted.
All of these helped City to near an unreachable milestone in premier league history of a club winning 14 consecutive games if they managed to gather three points from the oncoming Manchester derby this weekend. It was seriously a grand episode ,tuned every time in the weekend, brought in by Guardiola to collect all his legacies at Barcelona to the blue half of Manchester.