Last night, Manchester City and Pep Guardiola gave the media a lot to talk about. A domination daunted in a way that left no place to hide for a lowly Burton Albion. The Sky Blues playing at home were no less than a ruthless force welcoming their opponents only to send them back in grief. Burton Albion faced Manchester City in first leg of Carabao Cup semi-final in a 9-0 defeat. City's tune of nine have left the second leg between the two a consolation; a mere formality. This was only the second time Guardiola had won with a 9 goal margin, after leading Barcelona.
Not always do we see a match consisting of 28 shots on goal and 9 points being scored. The Brazilian youngster, Gabriel Jesus shone in the outing with amassing 4 goals under his belt. Way before the game had reached it's half-way park, City had already announced their victory in front of home fans. A lopsided night for the visitors, saw them back in as early as 6th minute; Kevin De Bruyne netting with head.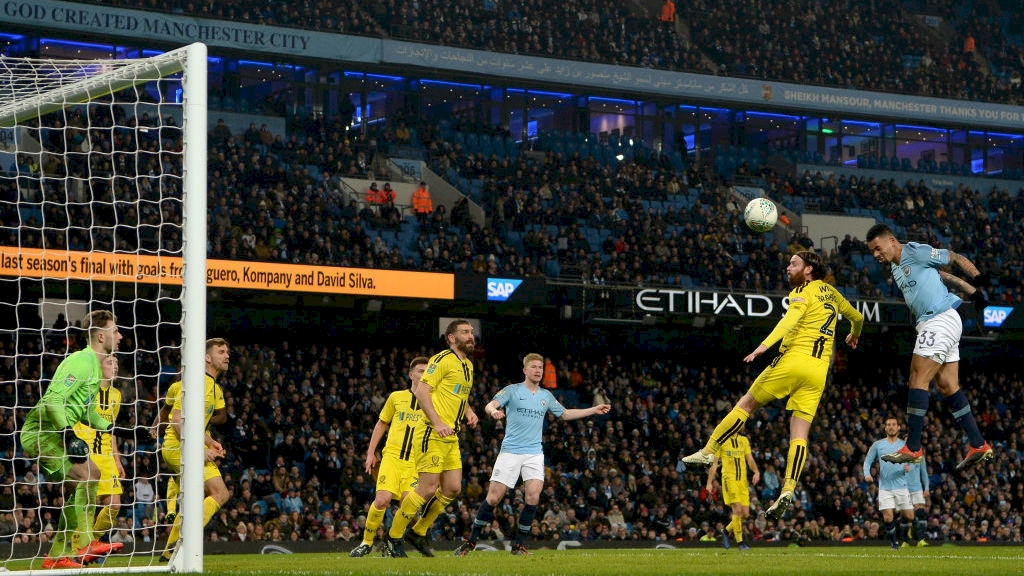 A third-tier team Burton made their presence in that league evident, a performance so poor, even the coach would oversee upon because forgetting their performance is the best they can play with. Before we talk about City's demolition, let's have a word on Burton whose coach was confident enough on stopping City, the same way he did to Alex Ferguson's Manchester United in a 0-0 draw in 2006.
Burton after conceding their first goal created a chance, "only chance" that too was lofted over the post by Marcus Harness, from 10 yards. Despite City's dominance throughout, it took them 30 minutes to score a second courtesy Leroy Sane's BRILLIANCE and Gabriel Jesus's finesse header. From then on, there was no stopping the Sku Blues. The hosts scored two more goals in a gap of 7 minutes, taking the tally to 4 goals before half time.
The second half, even before it had commenced, announced a bad day for Burton. The Sky Blues score 5 more in the second half, 4 of them coming in gap of 12 minutes.
On the scoresheet were Kevin De Bruyne starting the proceedings, Gabriel Jesus with a quadruple, O. Zinchenko with a mistimed cross, Phil Foden scoring in two consecutive games, Kyle Walker and Riyad Mahrez finishing things off in style.
We have to see whom City face in the finals, Chelsea or Tottenham Hotspur. Although Spurs lead the leg by 1-0, they still have to overcome Chelsea at Stamford Bridge.