After a humiliating defeat at Anfield stadium followed by Derby defeat, Manchester City need to step-up their game against Liverpool in the mid-week. They already have to cover up their three goal deficit from the first leg.
Manchester City posses a star studded squad and Man City Core will try picking up the probable XI that could start against Liverpool.
GOALKEEPER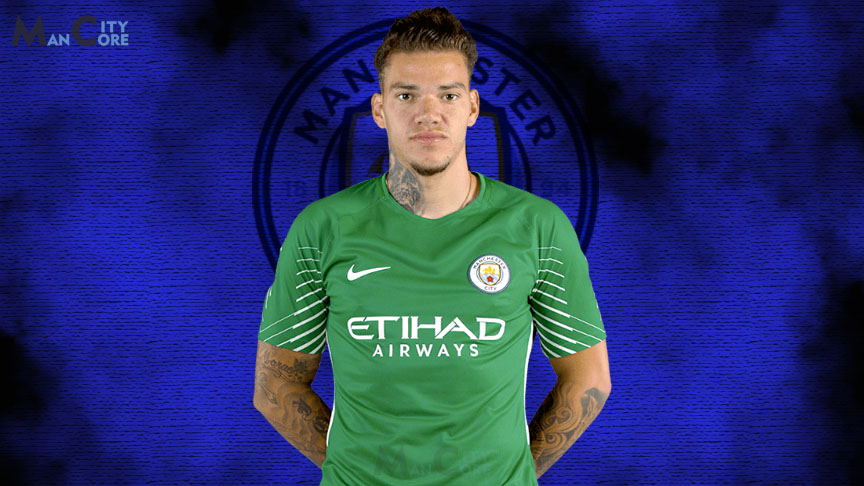 City's first choice keeper Ederson Moraes has shown 'what he is capable of'. His calmness under pressure, control and confidence over the ball enables him to retain possession.
Ederson's poor performance has come under spotlight recently but you can never rule this man out. Being in-charge between the woodwork after conceding six goals in the space of 2 matches will be tough for Ederson.
The Brazilian starlet has kept fourteen clean sheets this Premier League season under Pep Guardiola. Time-in time-out he has shown why Manchester City bought him for a record amount from Benfica and he will have to show it again, against the attacking threat of Liverpool trio (Firmino, Salah and Mane).
DEFENDERS
The City's defence comprises of physicality, pace, height and ability to make their mark when needed.
Nicolas Otamendi and Vincent Kompany will probably take charge in the centre of the defence. The duo are powerful, domineering defenders who look to win the ball high up the pitch rather than engage in foot races. It looks like Kompany has left his injury vows far behind and he is back to his best. He showed that against Arsenal, Man United and Everton and he needs to step-up again in the midweek.
Pep Guardiola's only concern going into this game is at left back – Delph, Zinchenko, Danilo, Mendy and Laporte are all likely to be in contention to start at left-back.
The question arises whether Aymeric Laporte keeps his place at left back, while Danilo could be of great importance at left-back. Liverpool posses a talented attacking squad and he have to make himself a priority to stand as a wall in front as well as be a threat offensively.
Benjamin Mendy will not be consider as he is only back from injury recently.
City's right-back Kyle Walker have impressed not only defensively but also offensively. He is a physical full back, who gives hard time to the opposition wingers and should start on the right.
MIDFIELDERS
Fernandinho is one of the main pillars in the three men midfield of Manchester City and has been Guardiola's main man in the Champions League this season. Fernandinho operates the game from deep in the midfield. He can provide brilliant through balls to the attackers. Fernandinho will play a major role in the midfield. But his defensive quality will surely be tested against one of the best attacking teams of Europe.
Kevin De Bruyne has established himself into one of the most creative midfielder in the game. He has been the go to man for the citizen. Pep Guardiola has compared De Bruyne qualities with Barcelona Lionel Messi. With Man City already trailing with three goal its time for Kevin De Bruyne to prove his worth and make a statement.
For last four to five years, David Silva has been vital for The Blues. It is Silva who can bring the team to life with some silky approach play leaving a lot of defences in tatters.
FORWARDS
Goal registering of Sergio Aguero and the pace of Leroy Sane as well as of Raheem Sterling can prove dangerous for Liverpool. Sane has been one of the outstanding performer for Manchester City and his performance has been 'one of the best' at the left flank in Europe.
---
Also Read: 5 things which makes Leroy Sane the man he is
---
Raheem Sterling is considered as one of the most talented wingers in English Football right now. He can play wide and cut inside to provide the ball to the forwards. Sterling is someone Jurgen Klopp should worry about. He is certainly going to play a vital role this midweek.
Bernardo Silva is also a considerable option, but with Guardiola's preference at the moment Sterling makes the cut.
---
Also Read: 3 historic goals by Raheem Sterling which saved Man City's day
---
Now lets turn our attention on our strikers, Sergio Aguero and Gabriel Jesus.
Sergio Aguero has shrugged of his injury vows, and returned from the bench against Man United. Guardiola will be desperate to add the Argentinian back to starting XI. Aguero has already rewritten many records this season and is only one goal shy to net his two hundredth City goal.
With return of Sergio Aguero it looks like Gabriel Jesus will not be given the work load against Liverpool.
Man City's Predicted Lineup against Liverpool (Leg 2)