'English Premier League haven't seen such an impressive run before' so says the Citizens fan aloud when they leave stadiums around the country with fresh memories of the game that had a blue impact over ninety minutes. Indeed, Pep Guardiola's Manchester City are bringing out the best nature of British football and making this an attachment to lift the crown which they run for. 18 games unbeaten and counting as City are moving towards a priceless finisher of the season and live long invincibility record.
Guardiola's success in making is forecasted every where because he knows how to extract the best of out of players, guiding them not only for being an important squad member but world class players. At England, after declaring his greatness at Barcelona and Bayern, the Catalan did not figured out a hero who will stem up the superiority the way he want in his first taste of Premier league football. After sort of a naive inaugurated season, the master tactician landed with a solution. Removing the ones out of his plans and at the same time reshaping contributors fully committed to his game plan led the key behind all this achievement lock. Several heroes in the sky blue background tied their shoelace once again but this time with a different mentality.
One by one Kevin De Bruyne, David Silva, Raheem Sterling, Sergio Aguero in an endless list dressed up in fascinating colors to make the next big thing never dreamed of. Also money purchases like Ederson, John Stone and Bernardo Silva rose to handsome heights.
This was only attacking point of view. Defensively, City was again fruitful as ever. Though the Citizens failed to make it a regularity of keeping clean sheets, the back four remained stable. John Stones was an elegant contributor in it but one name which otherwise wouldn't had late City soar in the Sky was Nicolas Otamendi, the Argentine finding new feet under Guardiola.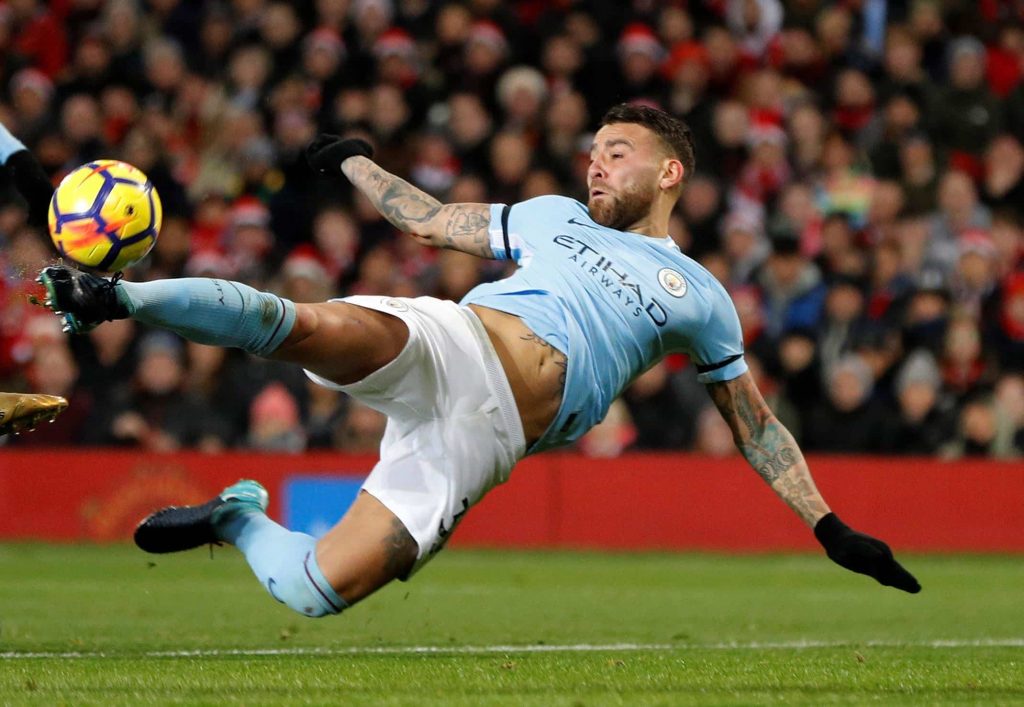 Otamendi has always been underrated due to his lack of defensive composer. And the truth speaks itself. Since joining City, Nicolas was never a great of a defender. Under Manuel Pellegrini's charge, where he appeared amongst the starting faces, Otamendi received ill unacceptable comments from own fans. He never stewed upon defensive duties and wasn't tactical at all in seeing off dangers. Forced to make grumble errors, it was largely doubted that will he stay intact in his center back position. The situation even came when the club started plans to leave him out of the club. But there was a happy ending to this career threatening tell for Otamendi.
In the month of February of the year 2016, City were lying fourth in the premier league table with Pellegrini their boss. Suddenly a news flashed in that the trophy presenter coach Guardiola is arriving at Etihad. The fans didn't expected it as a turning point for Nicolas Otamendi to rise above all odds and present his new boss the real power to manage back line. After all, there was no looking back. However his real character took sometime to come into the scene.
Pep's first season and Otamendi had a first look to change up his outlook. But he really felt uncomfortable with the pass out of the from the back system that Pep filled treasury with Barcelona and Bayern in his seven year reign beforehand. It is quite difficult to assume a system that is captured from a different league and in a different format. For that, errors began to show up. Players got confused what to do and what not to do with the ball in opposition feet. This dismantle their old familiar system they played for years on. It also prevented the boss from earning any silverware in his first session at the club concluding only to a third place finish in the league.
So, a change was imminent. Pep's genius mind henceforth revised the whole fallen plan and invested it in a new formal look, footballing world will describe as beautiful run up play. Otamendi and City flapped its wings then.
From the day one of the 2017/18 season, the bearded Argentine resembled defensive art which lasted each second he put forward his activity to pounce upon a danger. Against bigger clubs, he chimed off with a zonal marking plan and restricted forward's option to leap frog him. An overall change advisories began to reflect from the old critics man Otamendi. His partnership with Stones in early parts of the season was a rifling combo at the back. It never looked fragile or disoriented like before.
But the true leadership quality of Otamendi actually came into effect when Stones surrendered his playing times because of a serious injury that kept him out till now since mid October.
Manchester City next opposition without Stones out there was Leicester and it was left to see how Otamendi manages everything in the defense line. Kompany and Mangala were choices but Pep went for the latter to team up with Nicolas and wish for a bettered performance overall. Last game, City showed their reluctant genius against struggling West Brom but couldn't prevent the scoreline which looked 3-2 at Hawthrons. Otamendi himself made a silly error in one of those conceding's and so to die critics he stepped up. City won against Foxes quite comfortably in 2-0 conclusion of the game. Regards to striker but to defender as well to clear up a headache which didn't mounted up to upset fans gathered at Etihad. All because of Otamendi's master minded defending in suffocating runs of Vardy and Mahrez, the duo likes to create problems a lot. It showed that Otamendi has gained confidence and attributes to become a better.
Fixtures went and gone by but Otamendi stayed erect in the defense. There was no such issues of him going into unnecessary tuschel inside the D box or fouling near the danger zone. He swiftly cancelled out of delivered crosses and set up his mind to go for vital tackles only. At a point, it became difficult to get past him and test Ederson because he became a defensive shield to the campaign so far. It is a sense of positiveness for him to help his club to claim the crown.