Manchester City manager Pep Guardiola hasn't had the season he expected thus far, but all is not lost because Liverpool still has a significant amount of games to secure the title, that said… Pep hasn't suffered a season this poor since his first year as Manchester City head coach, as injuries and bad results have plagued the boys in Blue from Manchester.
West Ham cancellation congests City's schedule even more
Storm Ciara hit the UK weather warnings this week, along with the storm we were dealt with a cancellation for the Manchester City versus West Ham clash set to take place at the Etihad Stadium.
With an already congested fixture list after the winter break, Manchester City has been pushing for the replay to take place as soon as possible. Both squads have now taken off for their 5 day rest period, which has been recently introduced to the Premier League in order to give clubs a well-needed rest during the mix of the season.
Both clubs are keen for the match to be taken sooner rather than later, and with that thinking, it's been confirmed that the fixture is being pushed for Wednesday the 19th of February. It would be the ideal date for both clubs, giving the teams four days back on the training pitch before the game, and more than enough time to prepare for their next fixture.
The Premier League point gap
Currently position in second place, Manchester City is faced with an unthinkable task if they are to steal the EPL league trophy from Liverpool's grasp.
Liverpool's record-breaking beginning to the 19/20 season has put them in a very strong position to take home the one title that has evaded them year after year. No club has held a bigger advantage over second-place during this stage of the season, Jurgen Klopp's squad have won all but one of their EPL games with 73 points. If this trend continues, they're on course to break multiple records.
For Pep Guardiola to take out Klopp's men he would need Liverpool's form to drop considerably whilst maintaining an undefeated record for almost the rest of the season. With 13 fixtures remaining Liverpool needs just 7 wins to claim the title. It may seem like an impossible task ahead, but if anybody can steal the Premier League trophy, Pep's squad are the ones to do it, as they did last season.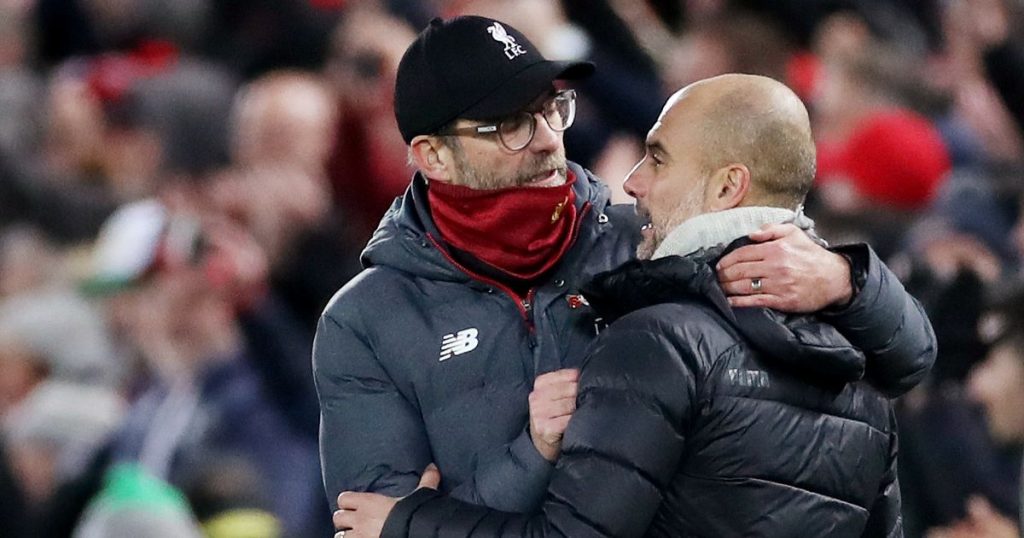 Pep has spoken on the success of Liverpool, openly acknowledging Klopp and this season Liverpool squad has caught him by surprise: "We did something incredible and Liverpool is doing it now.
"This group of players is something unique.
"Two years ago, we were 25 points ahead of them.
"We cannot deny the distance is big: 22 points. We didn't expect it but we have to respect it."
What's left for Manchester City and the road ahead?
Making a pick on the giants that are Manchester City is usually an easy setup but given the rocky form, injury problems and heavy fixture schedule ahead, it's probably best to stay cautious until a consistent form is shown.
A red card and a 2 nil loss to 6th place rivals Tottenham Hotspur isn't the confidence hit City need right now, with the likes of Leicester, Real Madrid, Arsenal, Chelsea, Liverpool and Manchester United waiting for their stab at Manchester City, now isn't the time to suffering more injuries or dealing with a backlog of fixtures. An exit out of the FA Cup may have given City an easier schedule but as of now, it could be the only silverware that City has hope of taking this season.
City's next fixture has now been set for Wednesday against West Ham, February 19, just three days before Leicester City welcome Manchester City to the King Power Stadium. City hasn't won at the King Power since 2017 and will be looking to end that trend. A 3-1 victory earlier this season should give Pep's men more than enough confidence to get the job done at the most critical point of the season.