FabManchester City's defeat fire was added in fury after Fabian Delph got a straight red for a reckless challenge in a 2-1 loss against Leicester at King Power Stadium. The feeble and naive attempt did not cost him 3 games but also took Manchester City, 7 points adrift pf league toppers Liverpool who are at 51 points courtesy a 4-0 win against Newcastle United.
The Sky Blues were confident in winning the game after losing 3-2 to Crystal Palace but were defeated and left humiliated again by the Champions of 2016, and losing Fabian Delph in as late as 89th minute gave Guardiola a major blow.
A frustrated defender, Delph was ruthless in his challenge with a straight leg, running at speed and digging the studs below the knees of Ricardo Pereira. The assistant referee played a major role in helping the official to show Delph a straight way out as Darren Lann( the assistant referee) has a clear and perfect view of Delph's challenge to adjudge him faulty.
Delph's red card was a rub of salt in Manchester City's back to back defeat wound, and will now a speel of 3 games in the sidelines. He will not be available for three games against Southampton, Liverpool and Rotherham.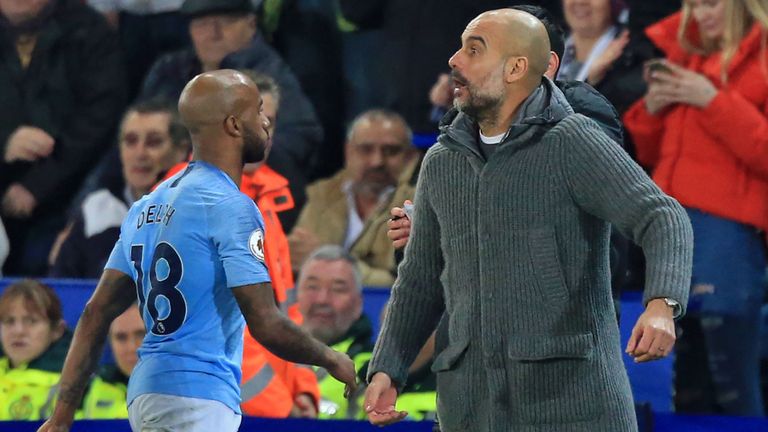 City are set to face Southampton on this weekend before playing to Liverpool which is the most awaited match of the season on January 3 and  FA Cup third-round tie against Rotherham. Delph will be absent in all three games which also includes one of the biggest encounter against League toppers.
Pep Guardialo also agreed to the fact that Delph did deserve a red card and said: "It's a red card. It's an unnecessary action," Guardiola told a news conference. "The referee decides what he decides. It can be a red card."