This summer's World Cup is hotly anticipated, and will naturally be awash with City representatives. That includes players who have yet to become established on the World Cup scene. Leroy Sané, showing the ability to adapt to even the most physical of opponents, is one such player, and he will carry his good club form into the World Cup as he prepares to defend his nation's title. If he does so successfully, it will be through the only medium he knows – all-out attack. However, such a mentality is easier described than enacted and, with City once more England's top club, a good World Cup for the young German is of vital importance. This is especially true if Sané is to carry on his form of this season into next and give Pep Guardiola every reason to resist Real Madrid's upcoming attempts – as rumoured on Manchester Evening News – to steal him away.
So how will he fare on the biggest stage of all?
Sané exploded onto the scene when he arrived at Manchester City. He is poised to translate that form onto the international stage this summer.
Layun battle a cautionary tale
While the German international team is, not unlike City, a very competitive one where starting berths are concerned, Sané's momentum from the Premier League should provide him with a good case for inclusion. His place in Joachim Low's 23 is guaranteed and, with Germany opening against Mexico – a team making its sixth successive appearance at a World Cup – Sané must fight fire with fire. Once more the best North American team in qualifying, Mexico's standing (as of 25 April 2018) as second-favourites to win Group F on Betway stands to reason and, if Sané is deployed on the same left flank role he undertook against Azerbaijan, he will likely find himself man-marked by Miguel Layun.
After an unremarkable time with Watford, the Sevilla fullback has featured for his current club more consistently of late. As noted on Whoscored, Layun generally contributes little to defence, with a tendency to wait for mistakes rather than tackle. He does, however, boast good hold-up play, which could frustrate the all-action Sané. His youthful vigour, combined with Layun's hold-up play, could ultimately prove to be his undoing if the ball does not yield. Ultimately, Sané will need to practise on his close control prior to the Mexico game.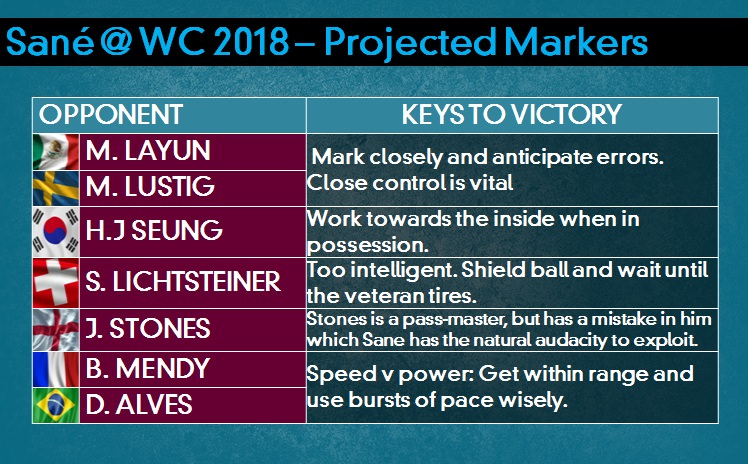 Lindelof – the red rag Sané needs?
With South Korea the rank outsiders to win the group, and the last opponent Germany will face, the world champions' next focal point comes in the form of Sweden. At right-back, Sané's next personal opponent will likely be Mikael Lustig. At 31, the Celtic fullback will be eager to prove himself in what will be his first – and last – World Cup appearance. However, in right-sided centre-back Victor Lindelof, Sané faces a Premier League peer. While Lindelof has not been able to nail down a consistent first-team place over at Old Trafford, one only needs to look at his defensive masterclass in the 1-0 aggregate qualifying win over Italy back in November, as reported on BBC Sport.
Lustig will share the task of roughing up Sané with Victor Lindelof but, like Layun, tackling is not his strong suit. He anticipates play and reads the game, and has proven to be something of a pass master, which could also frustrate Sané. While Sané has shown flashes of great vision this season, he will need to work on his anticipation skills to maximise his chances of stealing the ball from a man who adds composure to what is an otherwise outmatched team against Germany. Thus far, Sané has played just forty-two minutes against Lindelof, with those minutes coming in December's derby win at Old Trafford, but those minutes provided little in the way of clues as to how his duel could possibly unfold.
Sané's well-renowned pace will be his main asset at this summer's World Cup.
No enemies within, but himself
Beyond the group stage, Sané's personal opponents – assuming that there is a significant degree of man-marking – only get more challenging. Current projections indicate that Switzerland will await Germany in the last 16 and, here, two Serie A players – Ricardo Rodriguez and Stefan Lichtsteiner – provide Sané with an opposition that plies its trade with respected clubs. Highly possible meetings with England in the quarterfinals, and France in the semis will be where it gets intriguing. Sané could easily find himself duelling with fellow Citizens, specifically Kyle Walker and John Stones – and later Benjamin Mendy – in the knockout phase. That is, of course, provided that he can consistently secure a starting berth for Germany.
For Germany, Sané has no positional rival in the conventional sense but the occasion of a World Cup can get into the psyche of a young player like Sané – for better or worse. Arriving in England's top flight with a slight frame, and establishing yourself within the league's most 'competitive' squad, is one of the most difficult scenarios a professional can face these days. Sané did that with aplomb and, with a relatively easy World Cup group for Germany, there is every reason to believe that he can take this opportunity and truly become part of his nation's fabric.