Manchester City have title-deciding Manchester derby at Etihad in between the two Champions League quarter-finals fixtures against Liverpool.
Cityzens will be looking forward of winning title at home against Manchester United on April 7.
Both the clubs boasts handful of big names in the team sheet and supporters will certainly look out for their favourite coming on top of each other.
And talking about big names two of the well known goalkeepers come head to head Ederson Moraes and David De Gea – Two of the most promising men between the woodwork's as of right now.
Yes this battle will be exciting and Man City Core looks upon 'how' both of these goalkeepers fair, their strengths and their weaknesses.
EDERSON MORAES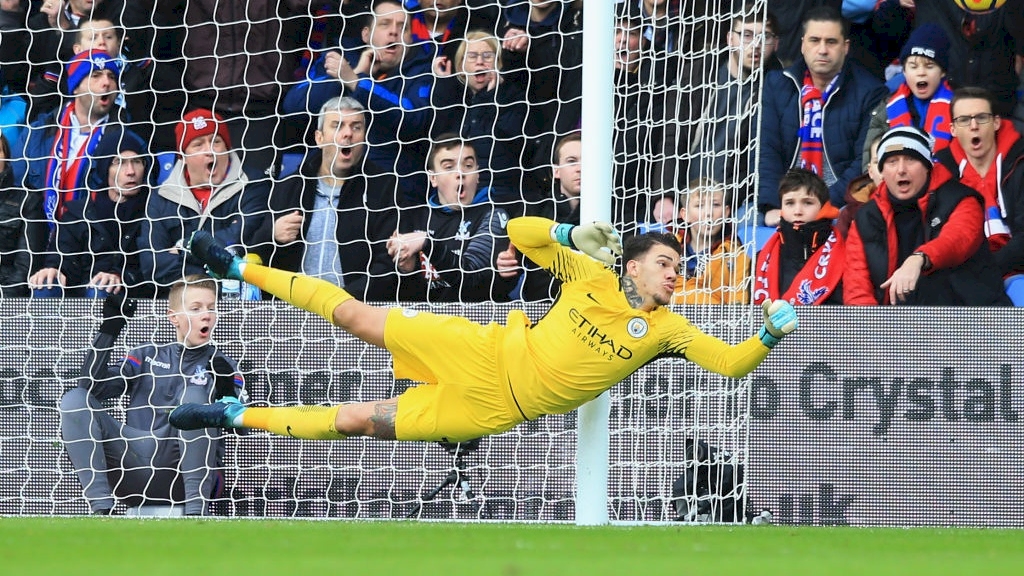 Manchester City first choice goalkeeper Ederson Moraes is one of the most proficient prospect, someone whose name will echo around the globe for long time. He has been a sensation since his move from Benfica.
His calmness under pressure and his control and confidence over the ball enables him to retain possession, have been at the heart of Manchester City's strengths this season.
A modern shot-stopper who helps in building attacks is excellent with his feet, hand and is regarded for his outstanding distribution. He is known for his penalty saving ability and prefers punching rather than catching. Ederson have always impressed when he was opted as the man between the woodwork's.
He is averaging a clean-sheet almost every other game in all competition. The Brazilian is only one behind David de Gea 15 clean-sheets – who failed up to keep clean-sheet in last three league matches. Ederson could still snatch the league's Golden Glove award in his first season in England.
Coming against United's attack is going to be different,with the likes of Alexis Sanchez, Romelu Lukaku, Marcus Rashford you could expect a goal anytime even in the minute chances
He's one of many, many top players they've got that's for sure
DAVID DE GEA
David De Gea – probably the best goalkeeper in the world as of right now. His name is enough to give strikers their worst goosebumps and his performance speaks for himself.
If Manchester United are in the top four – De Gea deserves applause able credits. His saves have kept the Red side of Manchester from conceding some sure goals this season.
De Gea is known for his superb reflexes and his saving abilities. His presence in the air is just another of the things Spainard is known for.
As Ederson, David De Gea can start an attack right from the dead balls at the back. His vision and ability to contribute the ball can give United attack a feeding from the back.
Manchester City got a talent of passing in and around the penalty area, but with man of De Gea's ability – it will be tough to get the ball in the net. David De Gea have played a big part for Manchester United this season, and he will have a bigger one to play for pride against Manchester counterparts Manchester City.