Prior to the 2017-18 Premier League season, there was a lot of controversy about Pep Guardiola's ability to deliver a title in England.
But no one could have predicted just how emphatically Man City would conquer the Premier League.
Pep Guardiola the head behind this glorious run of Manchester City, which scares every opponent they face. City's squad has bit of everything from frisky players to genuine passers and to solid defensive wall.
The Catalan stepped up to do a revolution after such a downward 2016/17 season. Finishing third was not in the history book for Pep. So, he planned to bring players to re-construct his Manchester City.
This summer with five players already signed and sealed, Pep Guardiola was still interested in making more signings.
INS: Benjamin Mendy (£49.2 million, Monaco), Danilo (£26.9 million, Real Madrid), Bernardo Silva (£43 million, Monaco), Ederson (£34.7 million, Benfica), Kyle Walker (£50 million, Tottenham), Douglas Luiz (undisclosed, Vasco da Gama)
City's pre-season has undoubtedly been a success.
Lets re-live the Premier League 2017/18 once again
Brighton vs Man City | GW – 1
In the first Premier League match, Chris Hughton's men were enjoying the home climate until Aguero's 70th-minute strike and an own goal by Lewis Dunk five minutes later helped Manchester City to drag out with three points.
The Boss took his full squad to a four day training camp in Spain at the start of the season the day after the Premier League season opener at Brighton.
Man City vs Everton | GW – 2
Next up were Everton. When Everton visited Etihad stadium, Wayne Rooney claimed his 200th Premier League goal of his career. Kyle Walker was shown red carpet in his debut home match.
Despite reduced to ten men, Manchester City fought back and Raheem Sterling's equaliser in the dying moments helped Manchester City to avoid a loss and drag out with a point.
Bournemouth vs Man City | GW – 3
At Vitality stadium, Manchester City faced a spirited Bournemouth and were trailing again in the early moments of the game through Charlie Daniel's missile. Manchester City Boy Gabriel Jesus equalise the score.
Though the key moment of the match came when Raheem Sterling scored in the seventh minute of added time to give his side a 2-1 win at Bournemouth. Sterling was then sent off for second yellow card after celebrating with the crowd. The players, bench and travelling fans went wild.
It was, of course, just the start of Manchester City Historic season
Man City vs Liverpool | GW – 4
City handed Klopp his heaviest Premier League defeat after a 5-0 win over 10-man Liverpool. Sergio Aguero's opening goal in the match makes him the only fourth player netting goals in six consecutive home Premier League matches against the same opponent.
Klopp's task got harder when his side were reduced to 10 men after Sadio Mane's high boot caught Ederson in the face when chasing a through-ball. Gabriel Jesus scored twice either side of the break before substitute Leroy Sane. Leroy Sane came on to add gloss to the scoreline with a late double.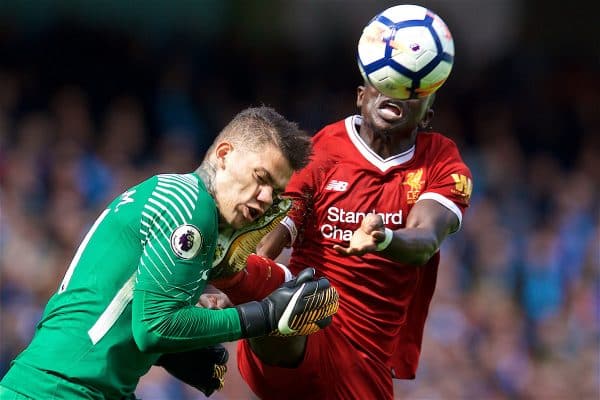 Aguero also celebrated his 124th Non-European Goals which makes him all-time highest ever Non-European goalscorer in Premier League History.
Watford vs Man City | GW – 5
Man City came into the match after beating Feyenoord by four goals with a clean sheet. Ederson surprisingly started the fixture midweek after getting scared on face against Liverpool last Saturday.
With Aguero scoring a 'perfect' hat-trick, Jesus, Otamendi and Sterling all on target in a 6-0 win. 'A position that wouldn't be surrendered again all season.'
Man City vs Crystal Palace | GW – 6
At Etihad stadium, the host faced a spirited Crystal Palace until Sane scored a minute before the break. After the break Raheem Sterling scored twice, Aguero scored a Sane cross before Delph curled in from distance. With a victory over Palace, City became the first Premier League team to score at least five goals in three consecutive matches.
The only sour note of Guardiola's day was an injury which forced Benjamin Mendy off before the break, which turned to be Mendy ruling out for the entire season suffering from ruptured cruciate knee ligament.
Chelsea vs Man City | GW – 7
Leroy Sane was clocked at 35.48km per hour during City's 1-0 win at Chelsea becoming the fastest Premier League player. The host had made a stuttering start. But a stunning goal by De Bruyne gave City a victory putting Guardiola's team on top of the Premier League table on goal difference.
Man City vs Stoke City | GW – 8
Manchester City were fantastic in the game against Stoke City. City opened the scoring in sixteen minute with Gabriel Jesus scoring. Raheem Sterling and David Silva wasted no time putting their side with three-goal lead within 30 minutes.
Stoke get back into the second half as they are the better team on the ball pressuring City's defence. The visitors find a way to damage hopes. Stoke comeback with two goals in three minutes.
Before Bernardo completed scoring, the goals from Jesus, Sane and Fernandinho helped City to drag out with three points.
If there were any other man at the last line of defence other than Butland, it would have been nine or ten in the net.
Man City vs Burnley | GW – 9
With a 3-0 win over Burnley, City have equalled their club record of 11 consecutive wins. And on the historic day, Sergio Aguero equals Eric Brook's all-time Man City record with his 177th goal.
Aguero opening goal hands City the lead. Aguero goes in search of his 178th City strike but couldn't find that day. Nicolas Otamendi header doubles City lead. But the closing goal of game came from Leroy Sane who got pass from De Bruyne.
West Brom vs Man City | GW – 10
By beating Hawthorns, City made it eighth Premier League game win in a row. Sane scored the opening goal before Rodriguez equalises the score.
The host were not level for long. Fernandinho and his deflected effort went in off a post on 15 minutes. The golden boy Sterling doubled the lead before Matt Phillips netted a late consolation.
The Blues had 78% of the possession and created 15 chances in total.
Man City vs Arsenal | GW – 11
Prior to the clash against Arsenal, Sergio Aguero was honoured by former City strikers for becoming Man City's all time highest goal scorer. Sergio Aguero presented with a bespoke blue glass boot by  Mike Summerbee and Eric Brook's daughter; Betty Cougill.
In the match, City went ahead on 19 minutes with De Bruyne's opener. After an important save from Ederson, The Blues doubled the lead through Sergio Aguero.
Sub Lacazette pull one back for Arsenal, but City seal victory two-goal lead through their own sub Gabriel Jesus.
Leicester vs Man City | GW – 12
Goals by Gabriel Jesus and Kevin De Bruyne registered Man City's 16th-consecutive victory in all competitions with a 2-0 victory over Leicester on Saturday, setting a new Club record.
It was also Blue's seventh consecutive away league victory breaking the previous Club best of six in a row set all the way back in 1903.
Huddersfield vs Man City | GW – 13
Raheem Sterling late strike helped City to earn a victory at Huddersfield town.
New signings merged with old face with talent are mixing up to confined flexibility and dominance on the pitch. Otamendi's own goal levelled on 47 minutes when Sterling was fouled by Scott Malone and Sergio Aguero scored from the spot for his ninth PL goal of the season. With six minutes to go, Raheem Sterling struck a winner.
City equalled a club record – set in 2015 – by securing an 11th successive Premier League victory.
Man City vs Southampton | GW – 14
The game looked as City were going to drag out with a point in the Premier League for the first time in over three months, but the Blues refused to give up.
City took a lead through Kevin De Bruyne's free-kick just after the half-time. However, Southampton midfielder Oriol Romeu's equalised with 15 minutes left.
Then came the English Golden boy Sterling to seal the victory late in the fixture.
Man City vs West Ham | GW – 15
Manchester City produced another late show to equal the record of 13 successive wins in a season with a 2-1 win over West Ham.
City faced a spirited West Ham and were trailing by one in the game. However Otamendi responded with a predatory finish shortly after the break. With seven minutes remaining, David Silva won it for City with De Bruyne's cross.
Man Utd vs Man City| GW – 16
Manchester City ended Manchester United's 40 home games unbeaten streak. The opening goal by David Silva been equalised in first-half stoppage time as Marcus Rashford capitalised on a defensive mix-up.
After the break Nicolas Otamendi smashes it past De Gea for his fourth goal of the season.
Though the key moment of game came when Lukaku and Mata unable from snatching a point in second-half stoppage time, incredible double save from Ederson Moraes.
Swansea vs Man City | GW – 17
With 4-0 victory against Swansea, Manchester City recorded the longest winning sequence in Premier League history.
After their Manchester Derby triumph, they equalled Arsenal's previous record of 14 win in a row. But the victory at Liberty stadium means they surpassed Arsenal's tally to set a new longest winning sequence record.
David Silva scored twice and further goals from De Bruyne and Aguero helped City to remain 11 points clear of Manchester United at top of league table.
Man City vs Spurs | GW – 18
The free scoring Manchester City made it 16 wins in row after beating Tottenham Hotspur 4-1.
David Silva was replaced by Ilkay Gundogan, as he was absent for personal reason. Goals from Ilkay Gundogan, Kevin De Bruyne and two from Raheem Sterling stretched their lead to 14 points.
Man City vs Bournemouth | GW – 19
Records kept tumbling at Manchester City. The 4-0 victory over Bournemouth means City became the first team in history to score 100 PL goals in a calendar year.
Not only that, City highest goal scorer took his tally of Etihad Stadium goals past 100 with a double. Sterling claimed his 16th of the season and Danilo gets his first for the club extending their League football record run of successive victories to 17.
Newcastle United vs Man City | GW – 20
The Golden Boy Sterling scored the only goal in the match that took us to an incredible 18 consecutive wins. City resembled their dominance.
They were now 15 points clear after just 20 games of the season.
Crystal Palace vs Man City | GW – 21
Premier League leaders 18 consecutive win run ended on New Years Eve with a 0-0 draw at Crystal Palace. But City's unbeaten run was saved by Ederson Moraes.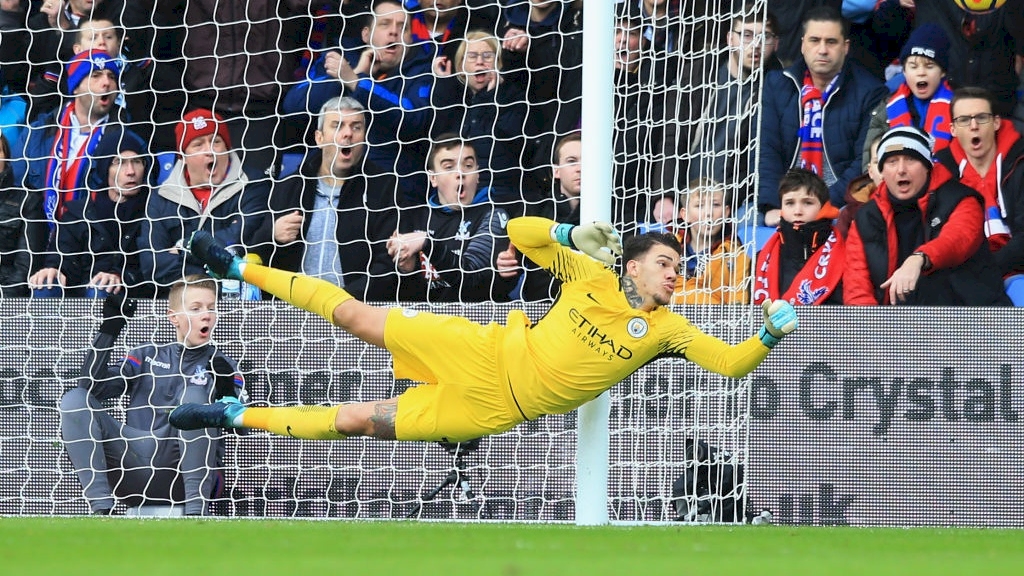 A deflected shot from Patrick van Aanholt in the first half and an injury-time penalty saved made a difference.
Man City vs Watford | GW – 22
Sterling's opening goal against Watford makes him the third fastest goal scorer by City player PL history. By 13 minutes, Christian Kabasele own goal doubled the lead. Sergio Aguero made it 3-0 though Andre Gray pull one back for Watford.
Liverpool vs Man City | GW – 23
League leaders tasted their first defeat this season as Liverpool edged a thrilling encounter with City at Anfield. The first-half of the game ended 1-1 with Chamberlain's opening goal equalised by Sane powerful shot.
Within eight minutes in seconds-half, the host scored three times to go 4-1 up.
As Man City looks to bite back to Liverpool, the visitors find a way to threatened them. Bernardo and Gundogan both struck the target late on but City could not grab the equaliser.
Man City vs Newcastle |GW – 24
In 3-1 win over Newcastle, City highest scorer Aguero marked his 200th Premier League appearance with a hat-trick.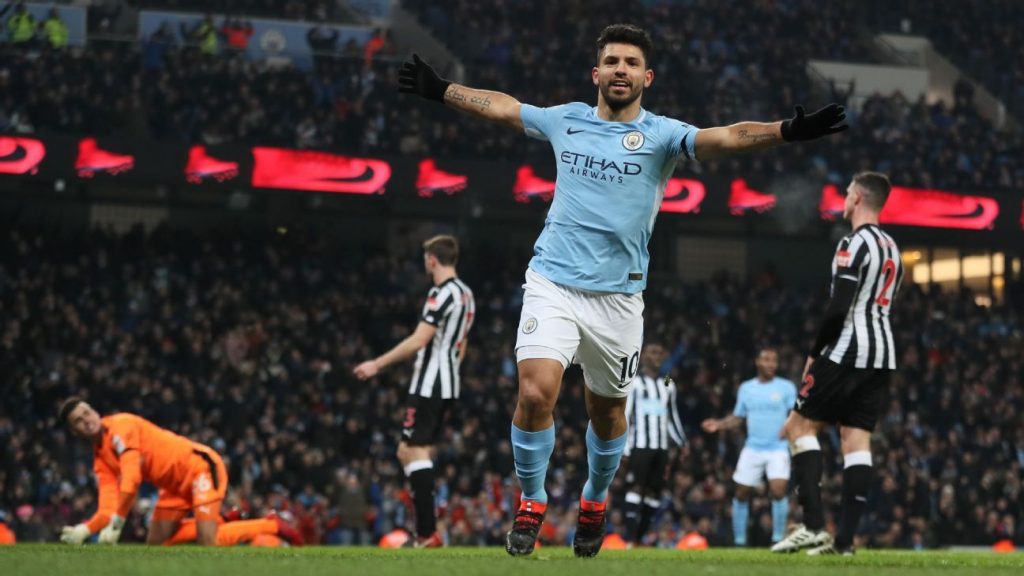 It was a win City absolutely needed, and proved to Pep the resilience and strength of his squad.
Man City vs West Brom | GW – 25
Aymeric Laporte made an impressive debut at the Etihad. Goals from Fernandinho, Kevin De Bruyne and Sergio Aguero handed comfortable 3-0 win over West Brom. They were again 15 points clear at the top of Premier League table.
Burnley vs Man City | GW – 26
City shot-stopper Ederson performance in a 1-1 draw against Burnley caught everyone's eye.
Two incredible saves from Ederson Moraes helped City to earn a point. His one handed save deny Aaron Lennon from snatching a point, could go down as save of the season.
Man City vs Leicester | GW- 27
Manchester City started well with Sterling's opening goal but after that in the first half City were not perfect. Leicester levelled on 24 minutes when Jamie Vardy skips past Gundogan, shifts it a yard and fires past Ederson.
City get back into the second half as they were the better team on the ball pressuring Leicester's defence. Sergio Aguero fired four goals, De Bruyne provided hat-trick of assists as they condemned Leicester City to a 5-1 defeat at the Etihad Stadium.
Arsenal vs Man City | GW – 28
Pep Guardiola boys beat Arsenal for the second time in four days. With 3-0 win against Arsenal at Emirates, they go 16 points clear at the top.
City found a breakthrough through Bernardo Silva. Manchester City makes it two with Sergio Aguero laying off to David Silva to smash goal.
As Arsenal looks to bite back to City, the visitors find a way to damage hopes – Arsenal were absolutely ripped by blues form Manchester on the half-an-hour mark, when they scored their third.
Chances fell to either sides but City were looking prime dominators for everything – Blocks, well-timed tackles, clearances and perfectly-placed covering players.
A perfect way for Pep to celebrate his 100th match in charge of Manchester City.
Man City vs Chelsea | GW – 29
Manchester City continued their title procession with Bernardo Silva scoring the only goal of that night.
Sky Blues 25th victory means Pep Guardiola side need just four victories to be crowned as Premier League Champions.
Stoke City vs Man City | GW – 30
In the final training session, Aguero picked up knee injury, he confirmed via twitter. He was replaced by Gabriel Jesus against Stoke.
David Silva scored twice to restored their 16-point lead at the top of the table. After the match City captain Vincent Kompany said "it would be a once-in-a-lifetime opportunity" to win title against Manchester United.
Everton vs Man City | GW – 32
With a win against Everton they became the third team to beat all other teams in a single Premier League season. The victory against Toffees means they can become champions by winning the Manchester derby.
Manchester City go ahead easily in the fourth minute when Leroy Sane volleyed it home. Gabriel Jesus nodded in the second before Raheem Sterling taps-in for the third.
Coming into second half, Everton gets a consolation with Bolasie's low shot from distance on 63 minutes.
Man City vs Man Utd | GW – 33
The match looked like Man City are on course to win PL after racing into a two-goal lead courtesy of Kompany and Gundogan.
But Pogba's double in second half turned the match before Smalling headed in the winner. The end of the match was a furious free-for-all, in which a number of players might have been sent off.
Simply not good for the Blues, the disallowed penalty and a handball could have made the difference.
Tottenham vs Man City | GW – 34
Premier League leaders bounced back their Champions League exit with victory against Tottenham at Wembley.
City take a breakthrough with Gabriel Jesus cool finish. Three minutes later the Blues win a penalty after Lloris fouls Sterling in the box. Ilkay Gundogan makes it two.
Despite of City leading in the game, the tempo for Tottenham didn't change. The host managed to get the ball back into the penalty box where Eriksen scored. City withstood more Spurs pressure to score next on 72 minutes. Victory at Wembley means City can clinch the title at home to Swansea in next fixture or if United lose against West Brom means a victory at Wembley will be enough to clinch the title.
Man City vs Swansea | GW – 35
A win at Wembley last week combined with West Brom pulling off a shock victory at Old Trafford means Manchester City have been confirmed as the new Premier League champions.
There has been a celebratory mood inside Etihad Stadium as champions eased past Swansea City 5-0 with another masterclass. Guardiola's men recorded 83% possession.
Goals from David Silva, Sterling, De Bruyne, Bernardo Silva and Jesus helped City to move closer to break Chelsea's all-time Premier League points record.
West Ham vs Man City | GW – 36
Victory at West Ham saw City surpassing 100-goal mark for the Premier League season. The win puts City on 93 points, two less than Chelsea's 2004/05 record.
Leroy Sane opened the scoring before former City player Pablo Zabaleta scoring own goal brought up 100 league goals this season for City. Cresswell halved the deficit on 42 minutes but goals from Jesus and Fernandinho saw City re-establish control.
Man City vs Huddersfield | GW – 37
Huddersfield becoming the first team to stop sky blues from scoring a goal at home in league this season. Also visitors gain a vital point in their battle to avoid relegation.
After Man City battled Huddersfield at the Etihad stadium, it was the time to lift Premier League trophy for the third time in seven years. This is what cityzens were waiting for.
Incredible season for Blues. 55 matches in all competitions, 44 wins, 139 goals.
Man City vs Brighton | GW -37
It was an emotional night at the Etihad as we said goodbye to a Club legend Yaya Toure. Yaya captained the final home game of the season. Goals from Danilo, Bernardo Silva and Fernandinho in 3-1 victory ensured surpassing 95-point tally set by Chelsea in 2004-05.
The Blues set three major Premier League records. Most goals, wins and points ever managed in a single Premier League season.
Southampton vs Man City | GW – 38
Both sides created enough chances but neither have found the breakthrough. The century of points was important for sky blues to become a real identity historically.
City left it late and take a breakthrough with Gabriel Jesus chip shot in injury time. A win Manchester City became the top-flight side in English football history to reach 100 points in a single season.
City end this sensational season with sensational win. They set marks unmatched in the 26 seasons of the competition.
MUST READ: Premier League records they have broken or matched by Man City
Incredible season for the Blues, they have been absolutely dominant for the most part. Record-smashing, goal-scoring, swashbuckling and awe-inspiring – Pep Guardiola finally showing his worth, setting new standards in Premier League history.
It was City's third title in seven seasons and first under Pep Guardiola.